Jockey Rojas Finding Success In His First Summer In The United States; Monday Mid-Atlantic Pick 4 returns $2,364 for .50 Cents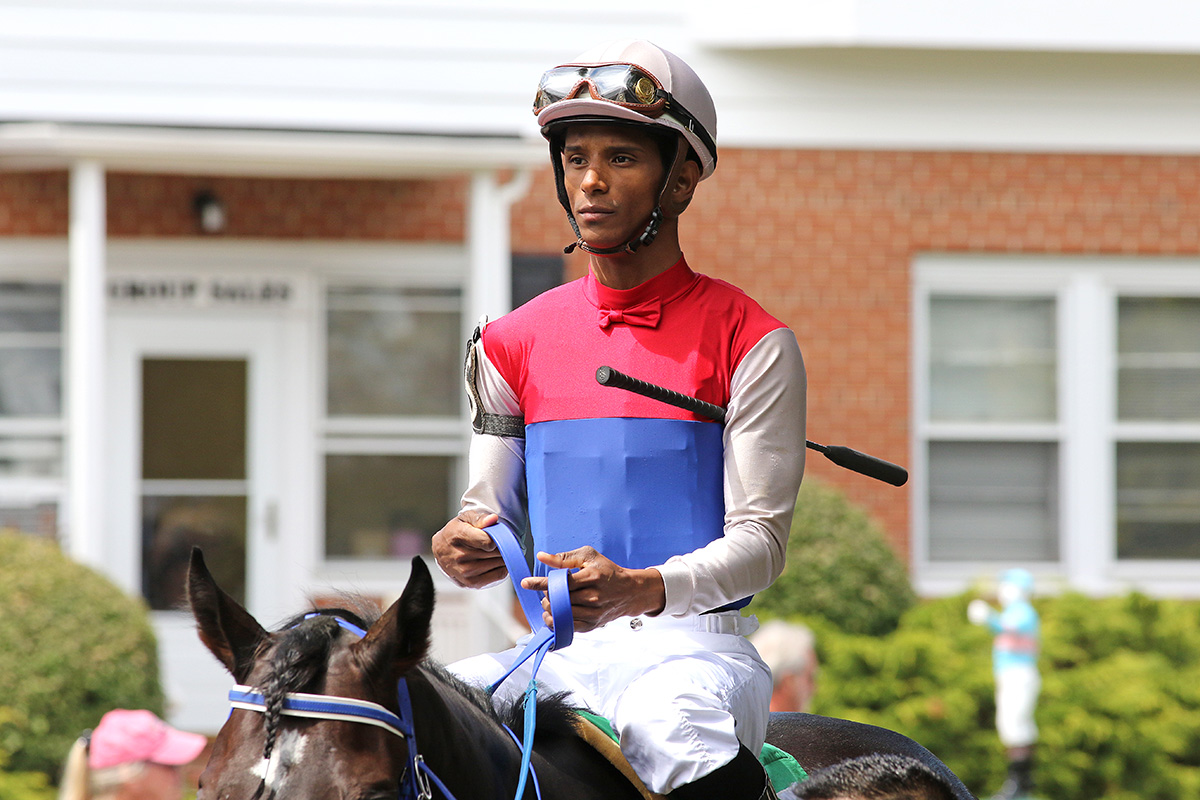 Jockey Carlos Rojas wasn't a typical newcomer when he rode his first race in the United States on May 22 at Monmouth Park. The 28-year-old from Ciudad Bolivar, Venezuela, had already won more than 500 races in his native country – including all of the classics there – and had been the leading apprentice.
That experience showed immediately when Rojas won with just his third career mount in the U.S.
"This is where the best racing is," said Rojas, who the opening race on Monday's Monmouth Park card aboard Completed Storm for leading trainer Claudio Gonzalez. "I always wanted to come to the United States to ride and I finally got the chance. But I wanted to make sure I was prepared when I came here."
With a boost from trainers Jose Camejo and Juan Carlos Avila, as well as jockey Javier Castellano, whom he befriended, Rojas took his leap of faith. He has not regretted a day of it, he said, making his presence felt with 10 wins, 10 seconds and 11 thirds from 74 mounts at the Monmouth Park meet.
"The best feeling in the world was my first win here (aboard Steadytillready on June 4)," said Rojas, who had his second two-winner day of the meet last Saturday. "It's everything you work for. I can't describe the feeling of winning that first race in the United States. This is just the start for me. I am trying to learn something new every day. I want to keep improving. There are a lot of good jockeys to learn from here."
Rojas, who once had a six-winner day in Venezuela, said he finally feels comfortable, with his recent success bolstering his confidence.
"I did not know what to expect when I came here," he said. "I am very happy with the way things are going."
Rojas hasn't firmed up his plans yet for after the Monmouth Park meet, but he is considering the Fair Grounds, where Camejo is based.
The Monday Mid-Atlantic Pick 4, which features two races from Monmouth Park and two from Colonial Downs every Monday through Sept. 5, returned $2,364.60 for .50 cents today for an all-turf sequence.
The wager started with Kitten's Collusion ($6.80), moved up from second to first through a disqualification, winning Monmouth Park's fifth race. That was followed by Tak E Lady ($12.80) in Colonial Downs' seventh race, Ready to Fly ($27.40) in Monmouth Park's seventh race and Sanctify ($17.80) in Colonial Downs' eighth race.
The Mid-Atlantic Pick 4 has a low 15 percent takeout.