Jockey Mychel Sanchez, Two-Time Leading Rider At Parx, Looking To Get A Foothold at Monmouth Park This summer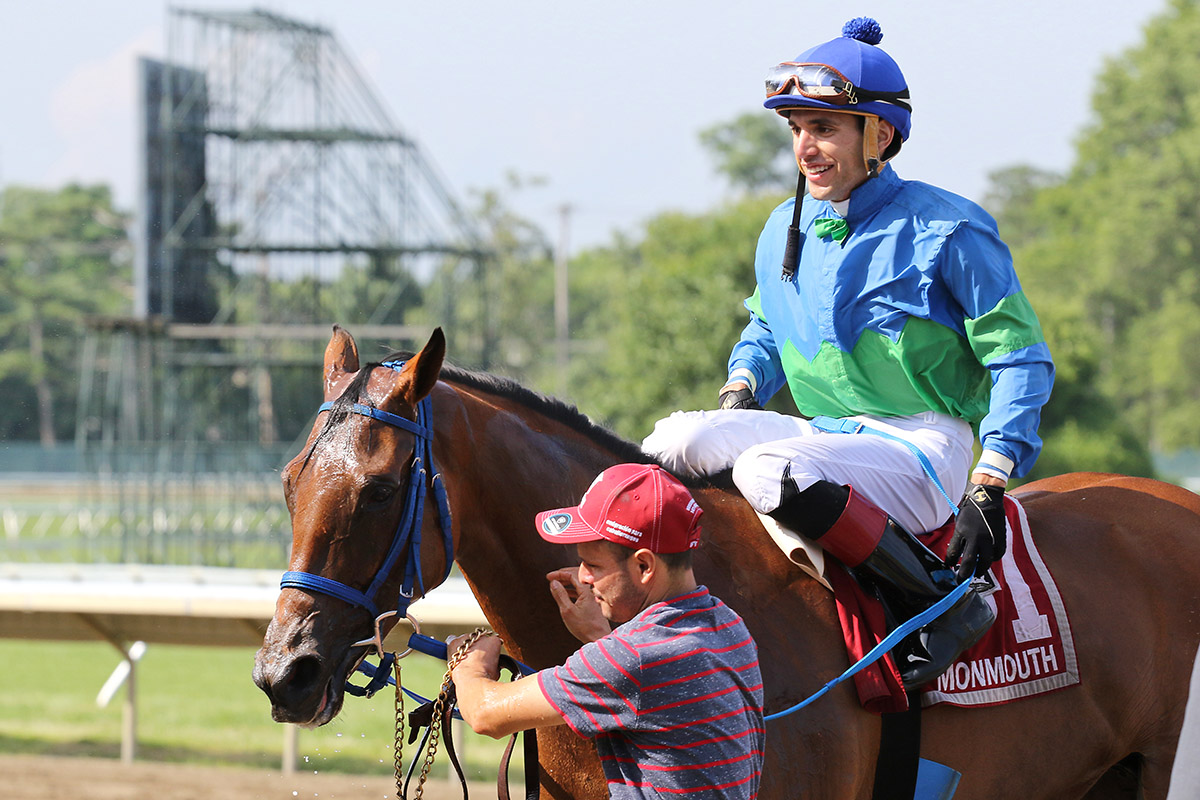 Though jockey Mychel Sanchez has been a proven commodity at Parx, where he has won the past two riding titles, the 25-year-old is trying to make his presence felt at Monmouth Park this summer as well.
"I was always at Parx, and I think I am built for more than just one track," said Sanchez. "I think I am more of a jockey than just Parx, and I think I can do better by going to New York, here at Monmouth, and other places on the East Coast."
During his career Sanchez has raced primarily at Parx, where he has posted 52 wins and is winning at a 14 percent clip in 2021. This summer he has had the opportunity to ride in stakes races at Monmouth Park, Pimlico, Delaware Park (where he is 11-for-34 overall this year) and Belmont Park.
The native of Venezuela is on pace to ride the most he ever has in his career, which started in 2013, with 439 mounts this year alone. The most mounts he has in a single season was 859 in 2019.
He is just beginning to get a foothold at the Monmouth meet too, with a 3-2-4 line from 29 mounts. Overall he has 67 wins entering the day.
"I think it is time for me to go out there, get to know more people and get bigger opportunities," said Sanchez. "I want to be a jockey who travels around and competes in big races."
Sanchez has one career graded stakes victory, which came in 2018 when he rode Dixie Serenade to a victory at Belmont Park in the Grade 3 Victory Rides Stakes. The winning ticket had a payout of $97.50. He has been clamoring for more opportunities to ride in bigger races ever since.
"I think I can do better in stake races. I think I am built for it," he said. "I believe I can ride against anybody if I have the right horse."
Sanchez' first stakes win of the Monmouth Park meet happened June 27, when he rode Groovy Surprise to victory in the Smart N' Classy Handicap. The jockey has had mounts in two grade 3 stakes races at Monmouth Park so far this summer — the Salvator Mile and the Eatontown Stakes — but a second graded stakes career victory has eluded him so far.
"Most of the time it's all about the horse, but you still have to go out there and do the job, and do the right thing as a jockey," said Sanchez. "I think I can do anything, and if I have the right horse, I will win."
Besides winning graded stakes races, he has aspirations of being the top rider at Monmouth Park and reaching the 1,000-win mark. He currently has 843 career wins.
"I am hoping to accomplish a lot of things in my career, like (winning) graded stakes, and hopefully winning more riding titles at tracks other than Parx — like Monmouth," said Sanchez. "Getting 1,000 wins would be great. I work hard and I try hard, and I could do anything that a trainer needs me to do. I just need the opportunity."
With Scott Silver as his agent, and given an opportunity with top trainers, Sanchez feels his name can spread throughout the Eastern seaboard.
"Just give me the chance. Like I told my agent, just put my name out there and I will open the doors," he said. "More people are starting to notice."
Coming from a family where his father, uncle and brother were all riders, Sanchez hopes to carry on his family's name, and leave a legacy that aspiring riders will hope to replicate.
"I want my career to end with my name in the history books," he said.
By James Baldo
Monmouth Park intern