Jockey Jairo Rendon Eyes Breakthrough At Monmouth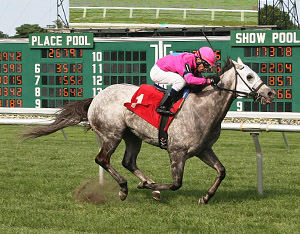 After spending most of the past 18 years establishing his reputation globally, jockey Jairo Rendon finds himself in an unusual situation this summer: He's trying to make a name for himself at Monmouth Park. 
In racing venues like Panama, Saudi Arabia, Morocco and his native Colombia, Rendon's riding abilities are well known. But in the United States, and specifically at Monmouth Park, he's an unknown outsider. 
And that's fine with 34-year-old, who is listed on a combined 16 mounts as live racing resumes at the Shore track on Saturday, May 12, and Sunday, May 13. 
"You have to work hard to get anything in this business and I have always worked hard," said Rendon. "People at Monmouth see me here every morning. I want to ride. I want them to know I'm here and that I am willing to work." 
Rendon, who hails from Medellin, Colombia, is committed to riding full-time during Monmouth Park's 52-day meeting as he tries to establish a foothold in the United States. He was the top rider in Colombia, won a riding title in Panama and spent eight years riding in Saudi Arabia, but has yet to make an impact in the United States. 
Part of that is due simply to bad luck. After arriving in the United States with the help of trainer Alan Goldberg, Rendon won his first race in this country at Gulfstream Park on Jan. 14, 2017. The very next race he was involved in a spill that resulted in a broken collarbone that sidelined him for more than five months. 
"That was tough because I think people were just starting to see what I can do and then I had the accident and was out for a while," he said. "All I could do was heal and get back to work when the doctors said I could." 
Rendon won two races from 11 starters at Monmouth Park a year ago, riding sparingly the entire year. He says he is back now and embracing the heavy workload, trying to show people the experience he gained from riding more than 3,000 races around the world. 
On Monmouth Park's opening day card on May 5 he won with Magic Hatter at a mile and a sixteenth on the grass. He had six mounts that day. 
"They say I am very good on the turf because I know how to save ground and position a horse," said Rendon. "I don't know. I think I can ride any kind of race." 
Monmouth Park trainers have noticed. Five different conditioners will account for the 16 horses he is listed on Saturday and Sunday. 
"My goal is to improve my business and win a lot of races at Monmouth Park," said Rendon. "I hope by working hard people will see what I can do if given the chance."