Jockey Jairo Rendon Eager For His First U.S. Grade 1 Mount in Sunday's Haskell Invitational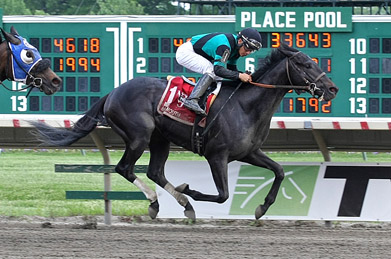 Jairo Rendon has been a member of the jockey colony at tracks on four different continents, was the leading rider in Panama multiple times, and even won a Grade 1 event for King Abdullah bin Al Saud of Saudi Arabia while under contract to the late ruler for five years. On Sunday, he competes in his first betfair.com Haskell Invitational, the $1 million Grade 1 race that is Monmouth Park's signature event. 
"I'm very excited," said the 34-year-old native of Medellin, Colombia, who relocated his tack to Monmouth Park for the current meet and has been turning heads since. "This will be the first Grade 1 race I've ridden in America."  
Rendon will be aboard the locally-based Golden Brown, who steps up in class and returns to racing on dirt after becoming a first-time stakes winner in the Grade 3 Kent Stakes on the Delaware Park lawn in his last start. Golden Brown may be the longest shot at 15-1 in the morning line for the seven-horse Haskell field, but his rider is undeterred. 
"I have a lot of confidence in my horse and I am very grateful for the opportunity to ride him," said Rendon, who was in the irons for Golden Brown's last two races. "I think he'll handle the dirt well." 
Trainer Pat McBurney decided to stick with Rendon, who rode for a Saudi Arabian prince for another three years following the King's death in 2015. Rendon has also been a member of jockey colonies in Morocco, his native Colombia and at Gulfstream Park.  
"I saw him ride in Florida and I was impressed," said McBurney. "He's got a lot of skills and a great attitude, and he's a good, aggressive rider. He's also mature and a very head's-up, experienced rider. He fits this horse well." 
*     *     *     *     *     *     *     *     *     *     *     *     *     *     *     *     *     * 
 Jockey Albin Jimenez, who is also Monmouth-based, has competed in Grade 1 affairs but has yet to win a race of this magnitude. He will have the chance when he partners with Roaming Union in his first Haskell Invitational appearance. 
"I've never won a Grade 1 but I've ridden in them for Wesley Ward and a couple of other trainers in Kentucky," said Jimenez, who won six leading rider titles at Turfway Park and another at Indiana Grand. "This is a big opportunity for me, especially with the race being shown on national TV (NBC). There are some very good riders in this race." 
They include reigning Eclipse Award winner Jose Ortiz, who will be aboard the 2017 2-Year-Old Male champion and 6-5 morning line favorite Good Magic for defending Eclipse Award-winning trainer Chad Brown.  
This is the first Haskell appearance for Ortiz, who currently ranks first in North America in number of graded stakes wins (21) and has two 2018 Grade 1 victories. He ranks second nationally in earnings ($13.8 million) and sits in sixth place in overall wins (150), according to Equibase.  
Jimenez will be signaling "go" to Roaming Union, who is trained by Kelly Breen, right out of the gate.  
"There is a lot of pace in the race and my horse has speed. I'm sure he'll be fighting for the lead. I think he'll be right there," said Jimenez, who said the track was in great shape after he worked horses Friday morning. "I'm so excited about the Haskell. I can't wait. I'm counting down the hours." 
*     *     *      *     *     *     *     *     *     *     *     *     *     *     *     *     *      
Roaming Union and Golden Brown were out on the Monmouth Park racing strip Friday morning continuing their Haskell preparations, as was Core Beliefs, who arrived Tuesday afternoon from Southern California for trainer Peter Eurton and has settled nicely into the environs.  
"He's a little antsy and can be tough to deal with and can be a bit nervous in his stall, so he goes out as the first horse in the first set every day," trainer Kelly Breen said of Roaming Union, who went through a routine gallop. "We're going to keep him calm and cool until Sunday." 
The activity and atmosphere in the Breen barn are markedly different than 2015, when Triple Crown winner American Pharoah was bedded there during his Haskell week stay and attracted constant attention from the media, racetrackers and fans. 
Hall of Fame trainer Bob Baffert, who holds the record with eight Haskell winners (2015, 2014, 2012, 2011, 2010, 2005, 2002, 2001), likes to have his horses in the Breen barn when he sends them to Monmouth. 
"This is the lucky barn," said Breen. "Five of Bob's Haskell winners were in my barn. I might have to move Roaming Union into American Pharoah's stall for good luck." 
Golden Brown, meanwhile, jogged one mile, galloped one-half mile to the gate for a schooling lesson, and then galloped another half-mile before heading back to the barn. He'll also go to the paddock for some extra lessons leading up to the race. 
"He is a sweetheart in the barn, but when he gets out onto the track he's different. The exercise rider really needs to take a good hold," said McBurney. "Sometimes he's good in the paddock and sometimes not. The first time he ran here, he was the worst I'd ever seen him."  
But Golden Brown was perfectly behaved before his win in the Grade 3 Kent Stakes at Delaware Park in his last race. McBurney hopes for the same come Haskell day. 
"There was a big crowd and a lot of noise and activity that day and he handled it. There will be another big crowd here Sunday and I expect he'll do the same," he said. 
*     *    *    *    *    *    *    *    *    *    *    *    *    *    *    *    *    *     *     * 
Core Beliefs, who is coming off a hard-fought win the Grade 3 Ohio Derby in his last start, went through a routine morning gallop and was slated to visit the paddock in the afternoon. Luis Martinez, who is looking after the son of Quality Road until Eurton arrives via the red eye on Sunday morning to saddle the colt, reported that all is good with the colt. 
Speaking of the Ohio Derby when Gary Broad's Core Beliefs came from far off the pace and sustained a long drive to nip fellow Haskell combatant Lone Sailor at the wire and prevail by a nose, Eurton said that he thought it was an "amazing effort" on the part of his horse. 
"His last two races were his best races, and he's done nothing wrong since," Eurton said by phone from California. "That's why we're running here. We discussed it a lot. He's doing so well and how many opportunities do you have to win a Grade 1?" 
*     *     *      *     *     *     *     *     *     *      *      *     *     *      *      *      *        
Lone Sailor, Good Magic, and Bravazo, who are all currently stabled and training at Saratoga, are scheduled to van to Monmouth Saturday morning.  
Trainer Chad Brown reported via text that Good Magic, who is coming off a 10-week layoff following two grueling races in the Kentucky Derby and Preakness and is looking to get back into the win column, went through his final routine gallop at The Spa this morning and all signs are go for the e Five racing and Stonestreet Stables champion colt. 
Hall of Fame trainer D. Wayne Lukas is preparing to load Bravazo on a van for the ride south to Oceanport. 
"Everything is fine with Bravazo. He had a great morning and we'll load up tomorrow morning and be there by mid-morning to late morning," Lukas said of the Calumet Farm's homebred. "We're bringing him on our own van and looking forward to the race." 
Trainer Tom Amoss, who tightened the final screws on Lone Sailor, said that the G M B color bearer also had an uneventful routine gallop at Saratoga today and remains on schedule for the Haskell. 
Navy Commander, the dominant winner of the Long Branch Stakes here in his last outing, won't return to Monmouth Park until the morning of the race from his home at Parx. 
"It's only an hour away and he likes to ride on the van," said trainer Robert "Butch" Reid, Jr. "He's happy at home in his own stall so we'll continue to gallop there and jog Saturday morning and then we'll ship in Sunday morning."