Jockey Isaac Castillo Looking To Add To Career Year With Mounts In Both Monmouth Park Stakes Races This Weekend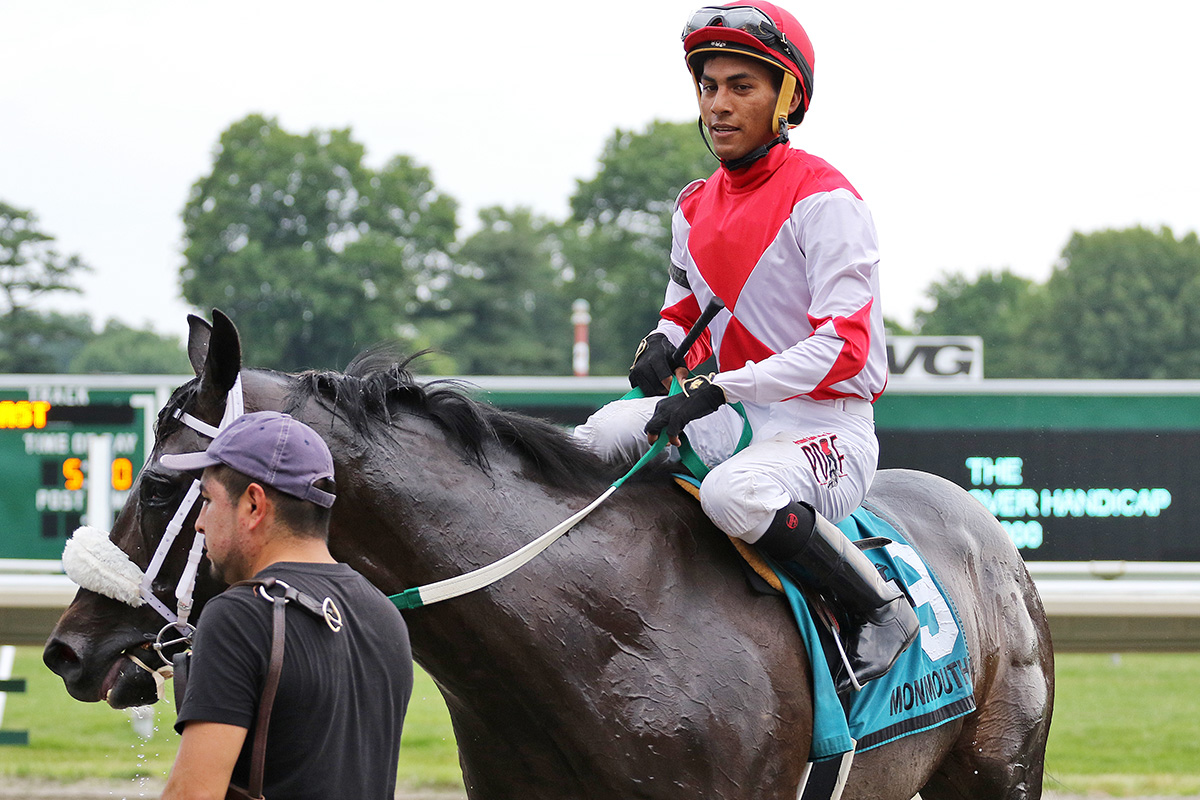 Jockey Isaac Castillo looks at his list of accomplishments at Monmouth Park this summer and sees enough to know that this is far and away the best year of his young career.
He was able to ride in a graded stakes race for the first time. He had his first three-winner day (on Aug. 22). He has already exceeded his victory total at the meet from a year ago, doing so in 64 fewer mounts. And he has cracked the top 10 in a competitive jockey colony after finishing 14th a year ago.
But there's one thing missing: A stakes victory.
The 22-year-old Panamanian hopes to add that final piece to a breakout year this weekend, first aboard Absentee in Saturday's $100,000 Mr. Prospector Stakes, then again on Sunday when he re-unites with the Anthony Margotta, Jr.-trained Bronx Beauty in the $75,000 Regret Stakes.
"Everything is about being consistent," Castillo said through an interpreter. "My first year riding in 2017 I didn't do much. The next year was only a little better. Finally, last year, people got to know me and I was getting more opportunities. I feel very good about the way things are going this year.
"It's all about hard work, being there every morning to show you want to work, a good attitude and staying positive."
Castillo, a 2014 graduate of the Panama jockey school started by Laffit Pincay, Jr., heads into the weekend at Monmouth Park with 17 winners from 145 mounts (compared to 15 from 209 mounts a year ago). That's good for eighth place in the rider standings.
While a victory aboard Absentee on Saturday would represent a significant upset, Bronx Beauty looms as one of the horses to beat in Sunday's Regret Stakes, which has drawn a field of seven fillies and mares 3-and-up going six furlongs.
Castillo has ridden Bronx Beauty twice this meet, earning a win in a $50,000 optional claimer and then finishing second in the Incredible Revenge Stakes. A 5-year-old mare, Bronx Beauty has won nine of 21 career starts with lifetime earnings of $527,270.
"Every race I watch replays to see what I could have done better for the next time," said Castillo. "I'm trying to improve with every ride. This has been a good year for me because my confidence is growing. I'm being more aggressive and I can see from the results that I can do it. I just have to keep working and keep getting better."
Castillo said he was inspired to become a jockey by the success of Eddie Castro, the 2003 Eclipse Award-winning apprentice who grew up in the same town in Panama. He made the move to the United States to launch his riding career in December of 2016, getting two mounts that month.
It took until Sept. 5 for Castillo to land his first graded stakes mount, finishing fifth aboard Share the Ride in the Grade 3 Red Bank Stakes.
"That was a great experience," he said. "It's part of the progress I am making and shows how things are coming along – not easily, but step by step."
Castillo said he will head to Tampa for the first time following the nine-day Meadowlands-at-Monmouth meet in October in an effort to continue to build his business.
"The harder I work the better things will be. I can see that from the way things are going for me now," he said.