Jockey Isaac Castillo Looking To Add To Breakout Year By Adding More Stakes Wins To His Credentials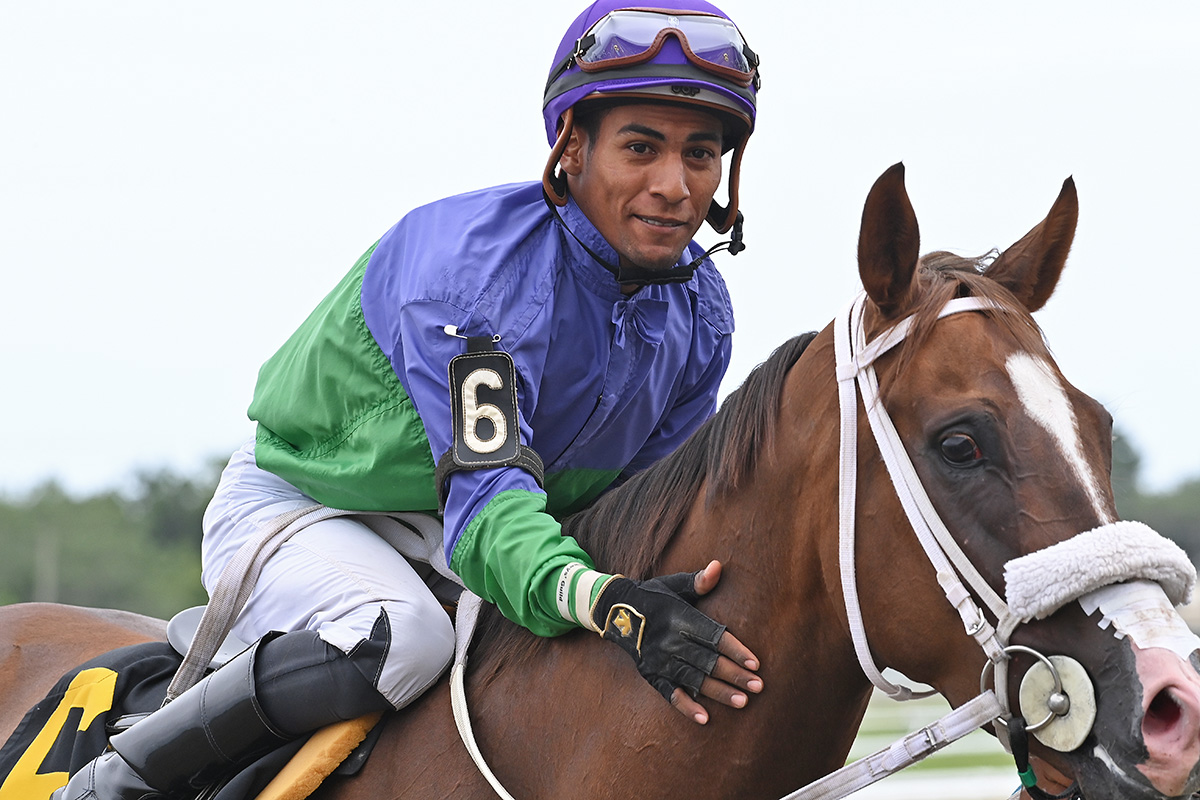 After a year of "firsts," 23-year-old jockey Isaac Castillo knows exactly what's next to keep his career on the rising arc it's now on.
"I need to win more stakes races. That's the next step for me," he said.
After the breakout year Castillo has had at Monmouth Park, stakes victories are part of the logical progression that has seen the native of Panama improve his win total for all six years he has been riding.
This year has been particularly noteworthy as Castillo heads into a heavy three-day workload at Monmouth Park this weekend.
He is currently second in the Monmouth Park rider standings with 49 wins, trailing only Paco Lopez, the runaway leader seeking his eighth title. Last year he won 21 races at the meet.
Castillo also has 87 overall wins from 541 mounts after winning 36 races from 284 mounts a year ago.
"I'm very happy with the way everything is going," he said. "It feels good to have this success. I have worked hard and the trainers have supported me. I would say it's even better than I expected this year."
Castillo's other "firsts" in 2021 include riding in a Grade 1 race – something he did twice on the same day, with a mount in both the TVG.com Haskell Stakes (Basso) and the United Nations (Oceans Map). Neither longshot showed much but Castillo was grateful for the experience.
"It meant a lot just to ride in a Grade 1 race for the first time, and to do it twice in the same day was special for me," he said.
Castillo said the momentum for his big year started at Tampa Downs over the winter and carried through to the Monmouth Park meet. His work ethic has taken that to another level this summer.
Though he has won two stakes races at the meet – the Rainbow Heir Stakes with Belgrano and the Regret Stakes aboard Bronx Beauty – he knows they have to come with more frequency at this stage of his career. He is convinced they will.
"I am seeing what happens if you keep working hard," he said. "I'm out there every morning doing what I can do to get better. I want to be good and I know you have to work hard to get there. Good things happen if you work hard.
"The funny thing is I am not tired at all, not mentally or physically, from how much I have ridden this year. It just makes me hungrier. Hopefully more trainers will see the success I am having and I will continue to get better and better horses to ride."
And finishing second in this case is actually something to feel good about.
"That would be a big accomplishment. There are a lot of good jockeys here," he said. "Everyone knows how tough Paco Lopez is here. He's hard for anyone to beat. So being second to him would be a big deal for me."