Jockey Isaac Castillo, Fresh Off Five-Winner Day, Seeing His Career Continue On The Fast Track At Monmouth Park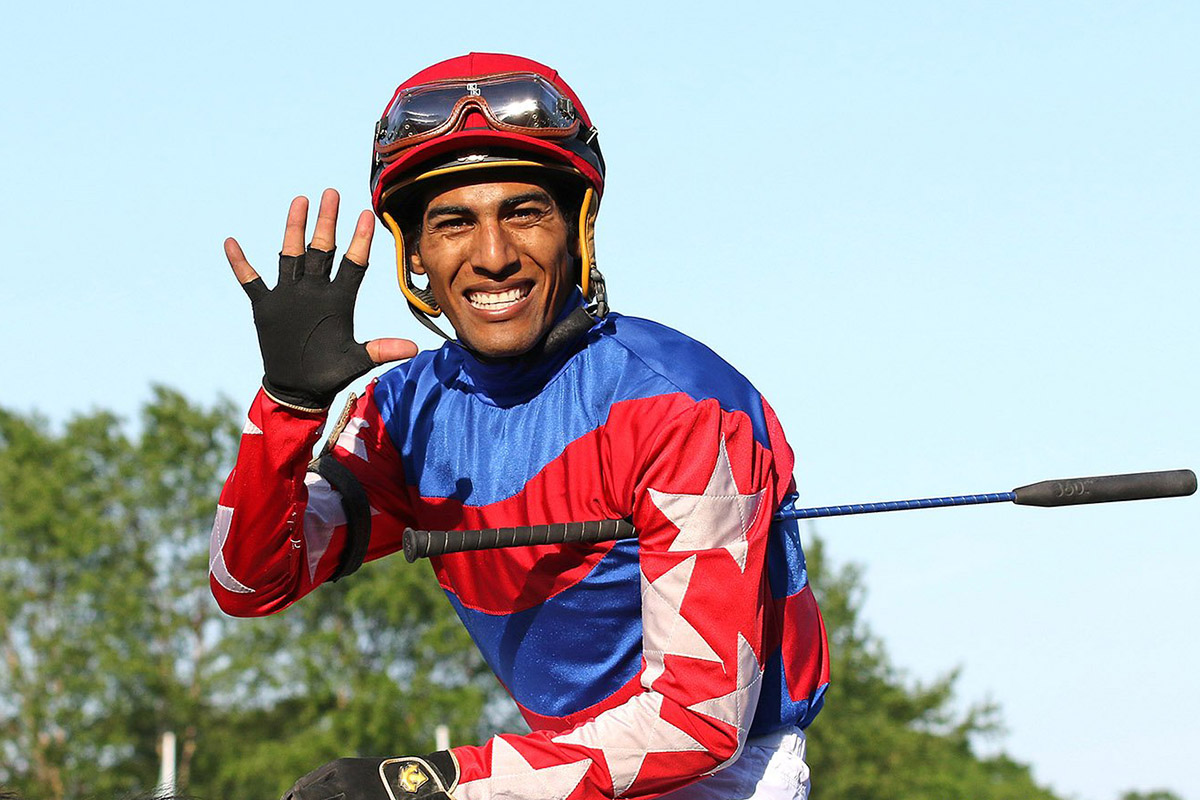 The best indicator of how jockey Isaac Castillo's career arc continues upward was clearly noticeable over the Memorial Day weekend.
On Sunday at Monmouth Park, he rode five winners, with the career-best performance highlighted by a victory in the Jersey Derby.
On Monday he was in Texas with five mounts for Hall of Fame trainer Steve Asmussen, managing a second-place finish aboard Presidential in the Texas Derby.
With Monmouth Park set to resume racing with its first Friday card of the season – post time is 2 p.m. – Castillo has a chance to add to what has been a dizzying week for the 24-year-old Panamanian. He is listed to ride three horses on the eight-race program, and victories in all three would vault him past Paco Lopez to the top of the Monmouth Park riding title.
Lopez, seeking a ninth Monmouth Park title, will be riding at Penn National on Friday night. He currently tops the standings with 11 wins. Castillo is second with nine.
"Paco is a very good rider and he is very tough to beat at Monmouth Park," said Castillo. "All I can do is to keep working hard and to take advantage when I can. But it's very hard to beat Paco for a riding title at Monmouth Park."
Castillo was a distant second to Lopez in the Monmouth Park standings a year ago, recording 54 winners to Lopez' 110.  That's a lot of ground to close, but Castillo's riding career is really just taking off.
He spent the spring in Oaklawn for the first time, riding for Asmussen and fellow Hall of Famer Jerry Hollendorfer, winning 21 races from 106 mounts. At Monmouth he currently has the highest win percentage (25 percent) of any of the top 10 riders.
"I think he is definitely getting noticed more now," said Dylan Fazio, Castillo's agent. "He has never stopped working hard. That is what he is known for, being a really hard worker who hustles on the backside in the mornings, He's one of the first people there every morning.
"Trainers notice that. And they notice winning."
Castillo said he is starting to see the difference in the quality of the horses he rides.
"I'm riding better horses and trainers are giving me more chances on better horses," he said. "I'm very grateful for the opportunities that trainers have given me. It's a reward for the hard work I put in."
Castillo had a pair of career first on last year's TVG.com Haskell Stakes card, riding in both the Haskell and the United Nations. They were the first Grade 1 races he has ridden in.
His biggest career victory to date came in the $500,000 Nownownow Stakes at Monmouth Park aboard Dakota Gold.
He has a clear focus on what his next career milestone is, too.
"My next goal is to win a graded stakes race," said Castillo, who started riding in 2017 and had a career-high 115 winners last year. "To me that would be a big thing to win my first graded stakes race. I just have to keep doing what I'm doing and hopefully I will have that chance."
Friday's Monmouth card will have a Pick 5 carryover of $34,350 to start the program. That Pick 5 starts in the first race.