Jockey Isaac Castillo Eager To Return "Home" When He Resumes Riding At Monmouth Park On Saturday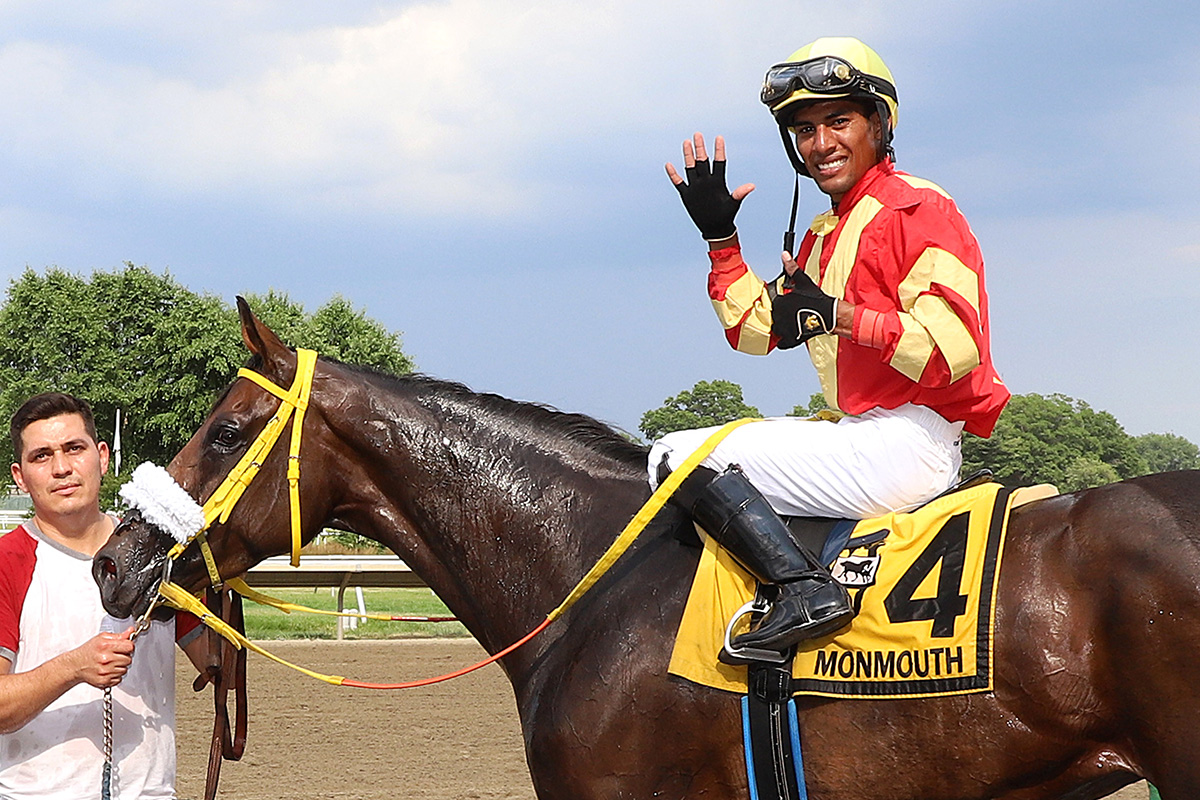 In a lot of ways, when jockey Isaac Castillo moves his tack to Monmouth Park starting on Saturday the 25-year-old Panamanian will be coming home.
Monmouth Park is where he rode his first career winner – aboard a claimer named Jezzie on May 29, 2017. It's where he recorded his only six-win day (July 3, 2022), where he rode in his first Grade 1 races (the TVG.com Haskell Stakes and United Nations in 2021) and where he won the richest race of his career (the $500,000 Nownownow Stakes in 2021).
"I'm excited to come back," said Castillo, who is listed on five mounts on Saturday's card, including the Mark Casse-trained Boppy O in the featured $100,000 Jersey Derby. "I always like coming back to New Jersey. Monmouth Park has always been a good place for me."
The challenge now for Castillo, second in the Monmouth Park jockey standings in 2021, is to see if he can pick up where he left off.
He comes off a successful winter at Oaklawn, where he was fourth in the rider standings with 48 wins, then made a brief try at Churchill Downs before deciding to come back to Monmouth Park.
A year ago, despite missing 10 weeks due to an injury, he won 31 races from 148 mounts at the Jersey Shore track.
"Isaac works hard. He does his job in the mornings," said Dylan Fazio, Castillo's agent. "We have good business from Kentucky and Oaklawn, where he had good success.
"So I think his reputation will carry and his work ethic shows in the mornings. He has five mounts on Saturday and we have good business for Sunday. I think his name carries weight at Monmouth Park and the business will correlate to it."
Castillo admits his delayed arrival to a meet that is already three weeks old will make a quick start more challenging, especially in a deep jockey colony, but it's nothing that hard work can't overcome, he said.
"I'll do whatever I can do to get trainers to ride me again," said Castillo. "All I can do is work hard to get back business. It will be a challenge, yes. But it's just about working hard."
After winning just 21 races at Oaklawn in 2021 in his first time there, Castillo more than doubled that win total at the Arkansas track this year.
On Saturday, trainer Lindsay Schultz will ride him back at Monmouth Park on two horses he rode at Oaklawn for her.
In the Jersey Derby, contested at a mile on the turf, he will be aboard a horse coming off a second-place finish in the English Channel Stakes at Gulfstream Park on May 6 – and one that was a Grade 3 winner on the turf as a 2-year-old.
"New Jersey and Monmouth Park have always been good to me, so coming back will hopefully be a good thing," said Castillo, who will ride in the $150,000 Penn Oaks on Friday at Penn National.