Jockey Ferrer Looks For Fast Start During Monmouth Park Season Opener Saturday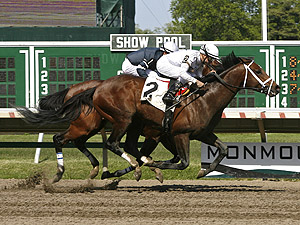 There's an unmistakable resolve in jockey Jose Ferrer's voice when he discusses the 52-day Monmouth Park meeting that begins Saturday, May 5, with a nine-race card.
Five months removed from a spill that sidelined him for 2½ months, Ferrer has his sights on winning his first jockey title at a track he has been riding at since the early 1980s.
"Absolutely, yes, that's my goal – to be the leading rider at Monmouth Park," said Ferrer. "I told my wife `this is the year to take the title.' That's why I'm here. I'm going to do everything humanly possible to do it."
Evidence of how serious and determined Ferrer is to achieve that goal – he was second in the Monmouth Park standings with 56 winners last year – can be seen in the live racing card that serves as the lead-in to the simulcast of the 144th  Kentucky Derby. Ferrer, who says he is in the best shape of his life, will ride in all nine races.
The opening day card has a special 1:45 p.m. post time, with gates opening at 10 a.m. The Kentucky Derby has a scheduled post time of 6:46 p.m.
Ferrer, 54, is coming off a year that saw him win 112 races overall. Despite being badly injured in a Sept. 14 spill at Delaware Park, that marked his best season since 2006.
"I think I'm riding better than I ever have just because of my experience," said Ferrer, who has won more than 4,200 career races. "But I also take care of myself better now. I work out all the time when I can."
But there were doubts after the spill last fall that left Ferrer wondering if he would ever ride again. So he says he cherishes the opportunities he has now even more.
"For a while, that first week in the hospital, I didn't know if I was going to come back," he said. "I had broken ribs, three cracked vertebrae and a collapsed lung. I developed pneumonia that first week too. I was in pretty bad shape.
"But my family pushed me and encouraged me and gave me the strength and energy to come back."
His peers noticed and were impressed, with the affable Ferrer winning the prestigious George Woolf Memorial Award in February. Voted on by the Jockey's Guild, the Woolf Award recognizes achievements to racing on and off the track and has been presented since 1950.
"That meant a lot to me," Ferrer said. "There are certain things you want to win as a jockey. There's an Eclipse Award and there's the Woolf Award. It's a great honor."
As for his immediate goal of a Monmouth Park riding title, Ferrer understands the challenge involved, especially since five-time leading rider Paco Lopez will be back on a full-time basis after riding Firenze Fire in the Kentucky Derby.
"I'm going to do everything I can to win it," said Ferrer. "Being older now it's something I know I would appreciate. I love to work. I love what I do. Winning a riding title at Monmouth Park would be special to me."
Monmouth Park's meeting runs through Sunday, Sept. 9. Starting next weekend, post time for live racing will 12:50 p.m. on Saturdays and Sundays and 1:15 p.m. on Thursdays and Fridays. Gates open at 11:30 a.m. those days.
For more information, visit www.monmouthpark.com.