Jockey Carlos Hernandez Making An Impression At Monmouth Park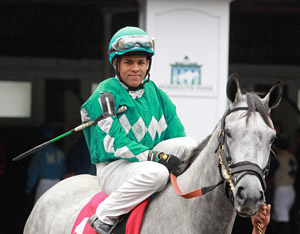 Jockey Carlos Hernandez is too busy these days trying to gain as much riding experience as he can to spend any time thinking about the dizzying journey that has brought him from Puerto Rico to Monmouth Park and a place, as of Sunday, in the top three of the riding standings at the track. 
The 20-year-old didn't start riding professionally until 2016, and that was after his father encouraged him to attend Puerto Rico's state-run Escuela Vocacional Hipicia, the famed jockey academy that has produced John Velazquez, Irad Ortiz Jr., Jose Ortiz and Manny Franco. 
"No one else in my family was involved in racing," said Hernandez, who captured Sunday's fourth race with Disruptor at odds of 6-1. "But my father thought I should try riding. He's the reason I started riding." 
Hernandez rode his first winner at Gulfstream Park on March 10, 2016, moving to Monmouth Park for the summer a year ago. He had just enough success with 11 winners last meeting to prompt him to return. 
With his victory Sunday, Hernandez's six wins put him into a tie in the Monmouth Park jockey standings with 13-time track riding champion Joe Bravo, trailing only co-leaders Jose Ferrer and Paco Lopez (11 wins apiece). Hernandez has six mounts on Monday's 11-race Memorial Day card. 
"I'm a little surprised by what I have done so far," he said. "But every day I come out here and work hard and I ride every race hard. If guys give me an opportunity, whether it's a longshot or not, I think they know I will try my hardest." 
Hernandez, who also has seven seconds and nine thirds from his 47 mounts at the meeting, says every race teaches him something new. 
"I'm still learning. Every race I learn something," he said. "My goal is to finish in the top five here. I know that won't be easy. There are so many good riders here. But if people give m a chance I will show them what I can do."