Jockey Antonio Gallardo Thrives On Heavy Workload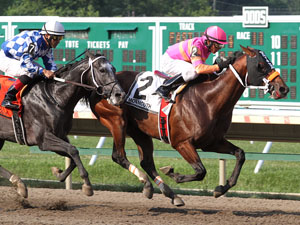 Fresh off his fourth riding title at Tampa Bay Downs, jockey Antonio Gallardo hopes to seize on that momentum by challenging for two separate riding titles simultaneously. 
Gallardo, third in the Monmouth Park jockey standings in 2017 with 50 winners, says he is poised for a big summer at the Shore track, but will also ride regularly at Presque Isle Downs when Monmouth Park is dark. 
"I think I can have a good meet at Monmouth," said the 31-year-old Spaniard. "I like it here. The people know me now so that helps a lot." 
Gallardo, the second leading rider by wins in North America in 2015 and 2016, said he plans to ride at Presque Isle Monday through Thursday and then at Monmouth Park on the weekends. He will not take a break until October. 
"I like keeping busy," he said. "I love to work, but it's really not work to me. I don't call it work when someone pays you o do something you love." 
Gallardo already has a win and two seconds from seven mounts on Monmouth Park's opening day card and knows that making a run at the riding title will be challenging. 
"You have Paco Lopez and Jose Ferrer. They have great business here. And now you have Angel Arroyo and Eric Cancel coming from New York," said Gallardo. "There are a lot of good riders here. I don't see anyone running away with the riding title easily. There are a few guys who can win it. I know I'm trying to win it."