Jockey Angel A. Rodriguez Looking To Build Off Fast Start Heading Into Monmouth Park's Busy Memorial Day Weekend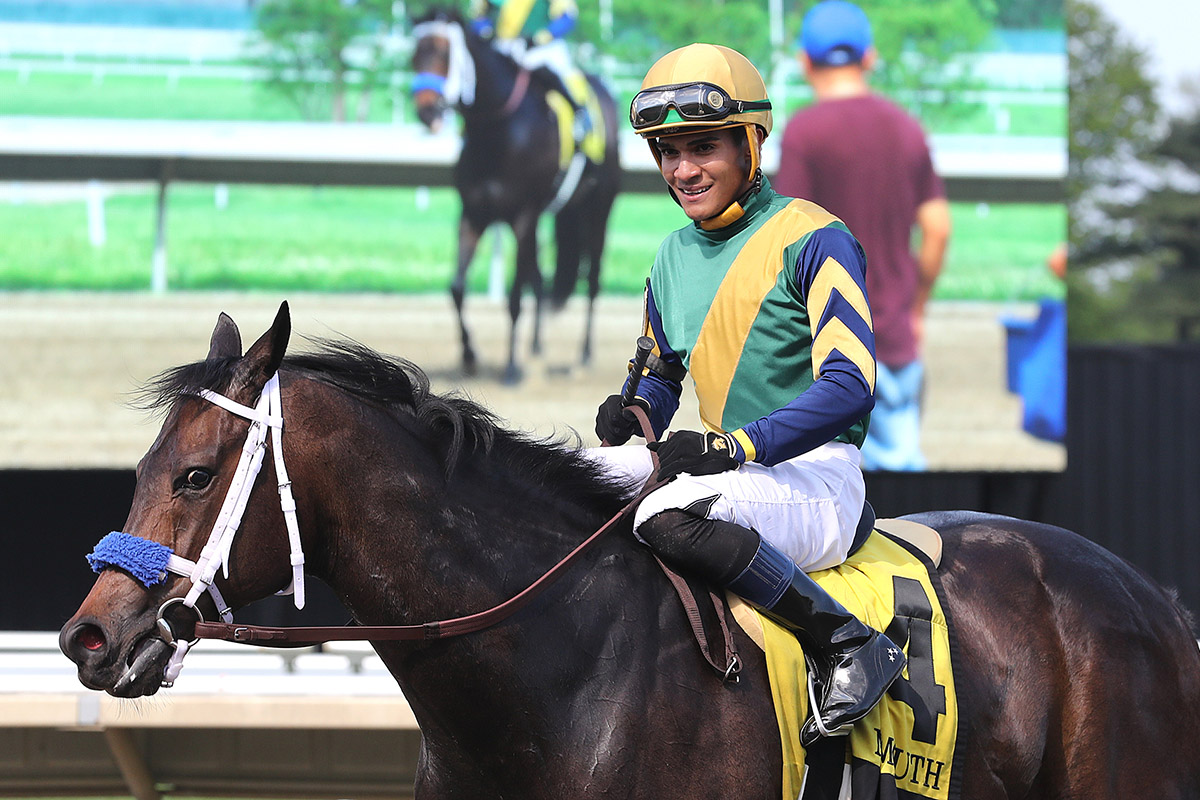 Even though jockey Angel A. Rodriguez had bounced around a half-dozen racetracks with moderate success since arriving in the United States from Panama in 2018, agent Steve Worsley saw something in the young rider.
So Worsley, who also has the book for popular veteran Jose C. Ferrer, offered his services to the 22-year-old in the final weeks of the Tampa Downs meet this spring.
"I'd seen him ride at Gulfstream in the past. I knew he had ability," said Worsley. "I told him `I'd like to take your book at Tampa for the last six weeks and if you're interested I would love for you to come to Monmouth Park.'
"We won eight races the last six weeks at Tampa and now we're here (at Monmouth Park)."
And making an immediate impact.
Rodriguez heads into Monmouth Park's three-day holiday weekend of live racing starting Saturday with a suddenly-increased workload and still riding the momentum of his victory aboard The Critical Way in the Get Serious Stakes last Sunday.
"I feel good about my first summer at Monmouth Park," Rodriguez said through a translator. "I have a lot of trainers giving me help and I'm working hard. I feel comfortable here."
Rodriguez, a graduate of the Laffit Pincay Riding Academy in his hometown of Panama City, Panama, enters the weekend tied for third in the Monmouth Park rider standings with a 4-4-3 line from his 16 mounts so far.
The victory in the Get Serious Stakes was just his second stakes win in the United States, with Rodriguez having won the Unreachable Star Stakes at Indiana Grand (now Horseshoe Indianapolis) in 2018.
As a 17-year-old he won Panama's most prestigious race — Clasico Presidente de la Republica – on the way to being the country's leading apprentice.
That doesn't mean much in the United States, but Rodriguez is starting to earn some longer looks from trainers with his fast start.
"I just want to ride," he said. "I don't care where I am in the standings. I want to ride in more stakes races and I want to have a good meet here."
Winning that first stakes race at Monmouth Park is certainly a boost, but it's really just the beginning, Worsley said.
"Without a doubt it will help him," he said. "Stakes races are the races everyone pays attention to and I've picked up some interest from good trainers because of it. He's also breezing for some good trainers now.
"But getting off to a good start at Monmouth Park doesn't mean you're going to ride for Chad Brown and those types of trainers right away. You have to keep winning races day in and day out and people will notice and that kind of business will follow."
Rodriguez sees his fast start as just that – a start.
"Winning the stakes race gave me more confidence," he said. "I know that with hard work come results. Of course I want to ride in more stakes races but I just want to have a good meet at Monmouth Park and see what happens from there,"
Monmouth Park's Memorial Day weekend will feature a $100,000 stakes race all three days, starting with Saturday's Cliff Hanger Stakes at a mile and a sixteenth on the turf. The Sunday feature is the 79th edition of the Jersey Derby at a mile on the turf, with the Miss Liberty Stakes at a mile and a sixteenth on the turf headlining the Monday program.
The Jersey Shore Food Truck Festival will mark its return over all three days, with Family Fun Days back on Saturdays and Sundays.
First race post time is 12:15 p.m.