Jersey Shore Pick 6 Carryover Stands At $266,475 For Sunday's 10-Race Card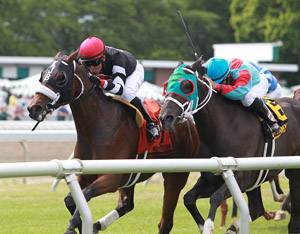 The Jersey Shore Pick 6 continued to be elusive for a single jackpot winner, with the carryover now at a record $266,475 entering Sunday's 10-race card at Monmouth Park. 
There was not a lone winning wager as required to take the entire pool during Saturday's 12-race card. 
Selecting six winners returned $893.14 for the 20-cent base bet. 
The sequence started with Beyond The Victory ($5.00) in the 7th race and was followed by Sydney Sweetie ($7.00) in the 8th race, a dead-heat between Montclair ($2.80) and Franklin Towers ($8.80) in the 9th race, Skeptic ($10.60) in the 10th race, The Gent ($4.40) in the 11th and No More Music ($17.20) in the 12th and final race. 
The Jersey Shore Pick 6 starts in the 5th race on Sunday. First race post time is 12:50 p.m.