Jersey Shore Pick 6 Carryover Reaches A Record $219,329 For Monmouth Park's Thursday Card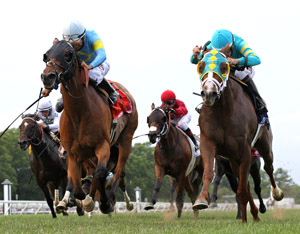 The jackpot and drama continue to grow in the Jersey Shore Pick 6 with a record carryover of $219,329 awaiting handicappers when racing resumes on Thursday at Monmouth Park after the wager failed to produce a single winner to take down the whole pool during Sunday's card. 
The 20-cent bet pays out the entire pool only if there is a single winner. 
Correctly selecting six winners on Sunday's program returned $154.08 for 20 cents. 
Heavily-favored Prendimi ($2.40) started the sequence in the 5th race, followed by Zeus Odin ($4.60) in the 6th race, Ebony Ball ($7.40) in the 7th race, Tanda's Joy ($7.40) in the 8th race, She's Stunning ($4.80) in the 9th race and Lost Princess ($4.40) in the 10th and final race. 
The Jersey Shore Pick 6 will start in the third race on Thursday. First race post is 1:15 p.m. for the eight-race card.