Jersey Shore Pick 6 Carryover Grows to $343,579 for Monday's 10-Race Card At Monmouth Park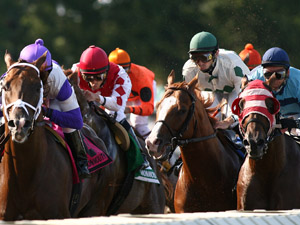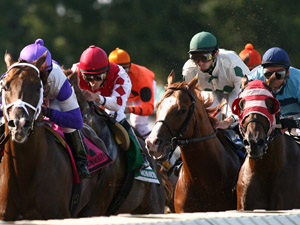 The record Jersey Shore Pick 6 carryover moved a step closer to a potential mandatory payout on closing day on Sunday, Sept. 9, with the jackpot pool now at $343,579 heading into Monmouth Park's 10-race card on Monday. 
The 20-cent base wager failed to produce the required single winning ticket to collect the entire pool during Sunday's 12-race card. The entire pool is paid out only if there is one winning ticket holder. 
Monmouth Park has three days of live racing remaining: Monday, Saturday, Sept. 8, and Sunday, Sept. 9. If the Pick 6 doesn't produce a single winning ticket holder Monday or Saturday there will be a mandatory payout of the entire pool on closing day. 
Selecting six winners on Sunday returned $148.90 for 20 cents. 
The sequence started with Queen of the Party ($4.20) in the 7th race and was followed by Merrow ($4.40) in the 8th race, Hangman ($9.80) in the 9th race, Bama Bound ($3.20) in the 10th race, Inconvenient Facts ($5.60) in the 11th race and Go Black Betty ($11.20) in the 12th and final race. 
Monday's Pick 6 starts in the 5th race. First race post time is 12:50 p.m.