Jersey Shore Pick 6 Carryover At Record $358,203 Heading Into Final Two Days Of Monmouth Park Meet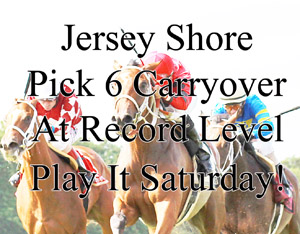 The Jersey Shore Pick 6 carryover will be at a record $358,203 when racing resumes for the final two days of the Monmouth Park meeting on Saturday, Sept. 8, and Sunday, Sept. 9, with a mandatory payout on closing day if the jackpot wager is not hit this Saturday. 
The 20-cent wager failed to produce the single winning ticket required to collect the entire pool during Monday's 10-race card. 
Selecting six winners on Monday returned $466.70 for 20 cents. 
The sequence began with The Forty Factor ($4.20) in the 5th race and was followed by Field Advantage ($7.80) in the 6th race, Lemon Zip ($12.40) in the 7th race, Terry's Charm ($3.60) in the 8th race, Miss Bob ($17.40) in the 9th race and Rol Again Question ($3.00) in the 10th and final race. 
First race post time on both Saturday and Sunday is 12:50 p.m. The Jersey Shore Pick 6 covers the final six races on the cards.