Jersey Shore Pick 6 Carryover At Record $238,574 Heading Into Monmouth Park's Thursday Card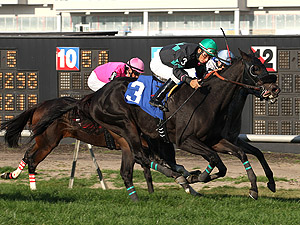 The Jersey Shore Pick 6 carryover has grown to a record $238,574 entering Thursday's eight-race card at Monmouth Park after the 20-cent wager again failed to produce just one winner on Sunday's 11-race program. 
The entire jackpot pool is paid out only if there is a single winning ticket holder. 
Sunday's Jersey Shore Pick 6 payout for 20 cents was $1,304.92. 
The sequence started with Cutter Helm ($3.60) in the 6th race and was followed with Town Policy ($2.80) in the 7th, More To Adore ($13.80) in the 8th, Nick The Cardshark ($10.40) in the 9th, Fashion Break ($12.60) in the 10th and Fiore ($3.60) in the 11th and final race. 
Thursday's Jersey Shore Pick 6 starts in the third race. First race post is 1:15 p.m.