Jersey Shore Pick 6 Carryover At Record $201,233 Entering Friday's Monmouth Card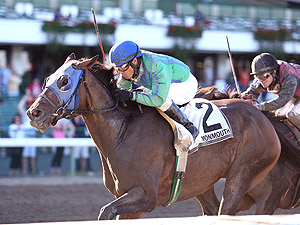 Even with three horses alive in the final leg of the Jersey Shore Pick 6 to potentially claim the entire pool if one of them had won, the 20-cent bet went unhit again on Thursday at Monmouth Park, resulting in a record carryover of $201,233 heading into Friday's eight-race card. 
The jackpot pool would have paid out to a single bettor on Thursday had Lady Scholar, Pennyfeather or Joanie's Jitters won the eighth and final race. The best showing by the trio was a fourth-place finish by Lady Scholar. 
The sequence started with the potential for producing just one winning ticket, as required to claim the jackpot, when Midnight Games ($19.20) won the third race (and first leg), followed by Deference ($63.40) in the fourth race. But three straight favorites followed: Chovanes ($3.80) won the fifth race, Class and Cash ($4.00) won the sixth race and Singing Sarah ($4.60) captured the seventh race. The sequence ended with Nina's Patience ($15.80) winning the eighth and final race. 
Picking six winners returned $956.56 for 20 cents. 
First race post time on Friday is 1:15 p.m. The Jersey Shore Pick 6 starts in the third race.