Jersey Shore Pick 6 Carryover At $80,081 Heading Into Wednesday, July 4, Card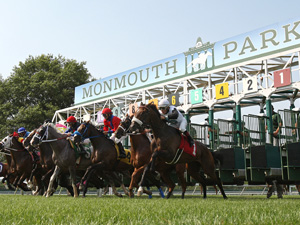 The Jersey Shore Pick 6 went unit once again on Sunday at Monmouth Park, resulting in a carryover of $80,081 heading into a special July 4 card on Wednesday. 
The 20-cent bet requires one winner for the jackpot payout. Picking all six winners on Sunday resulted in a payout of $4,625.30 for 20 cents. 
The sequence started with the potential of resulting in just one winner when Tree Shaker, who paid $62.00 to win, captured the sixth race. But no horse longer than 3-1 odds won the final five races. 
Don't Tell Vanessa ($4.40 to win), National Honor ($8.60), Dial Operator ($4.00), Jimi Bags ($5.00) and Sassy Chub ($2.80) completed the Sunday Pick 6 sequence. 
The Wednesday, July 4, card will consist of nine races. Post time is 12:50 p.m.