Jersey Shore Pick 6 Carryover At $305,470 When Racing Resumes At Monmouth Park On Friday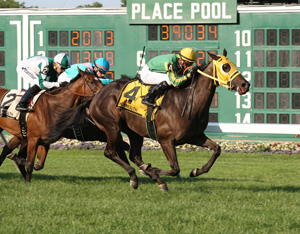 The Jersey Shore Pick 6 carryover will be at $305,470 when racing resumes on Friday at Monmouth Park after the 20-cent base bet failed to produce the single winner required to take down the entire jackpot on Sunday. 
The Jersey Shore Pick 6 pays out the entire pool only if there is a single winning ticket holder. 
Selecting six winners on Sunday paid $91.52 for 20 cents. 
The Pick 6 sequence started on Sunday with Heading Home ($3.80) in the 5th race and was followed by Chunnel ($5.80) in the 6th race, Desperado ($2.60) in the 7th race, Liz's Cable Girl ($6.20) in the 8th race, Dealer's Girl ($5.80) in the 9th race and Regally Irish ($5.20) in the 10th and final race. 
The Pick 6 starts in the 3rd race for the final Friday card of the season. First race post that day is 1:15 p.m.