Jersey Shore Pick 6 Carryover At $276,298 For Friday's Monmouth Park Card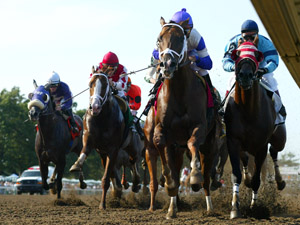 The elusive Jersey Shore Pick 6 jackpot carryover has grown to $276,298 for Friday's eight-race card at Monmouth Park after it failed to produce the single winning ticket required to take down the entire pool on Thursday. 
The 20-cent base wager pays out the entire jackpot only if there is one winning ticket holder. 
Selecting all six winners on Thursday returned $147.50 for 20 cents. The sequence started with Notacatbutacard ($3.60) in the 3rd race and was followed by Twofour Six Oh One ($9.40) in the 4th race, Uncle Junior ($4.00) in the 5th race, King Dublin ($5.60) in the 6th race, Proud Mandate ($4.20) in the 7th race and Imperial Sea ($8.40) in the 8th and final race. 
The Jersey Shore Pick 6 starts with the 3rd race on Friday. First race post time is 1:15 p.m.