Jersey Shore Pick 6 Carryover At $244,056 Entering Friday's Card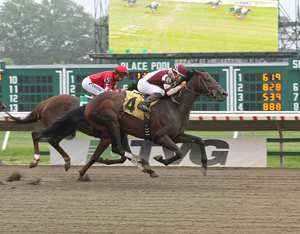 The record Jersey Shore Pick 6 carryover continued to grow on Thursday after no one claimed the jackpot pool, which now totals $244,056 entering Monmouth Park's eight-race card on Friday. 
The 20-cent bet pays out the entire pool only if there is a single winning ticket. 
Selecting six winners on Thursday returned $70.50 for 20 cents. 
The sequence began with Reed Kan ($2.40) in the 3rd race ad was followed by St. Padriag ($6.40) in the 4th race, Bostaleto ($4.60) in the 5th race, Billy's Jump Start ($5.80) in the 6th race, Jersey Joe B ($7.60) in the 7th race and Find the Money ($2.20 in the 8th and final race. 
Friday's Jersey Shore Pick 6 starts in the 3rd race. First race post time is 1:15 p.m.