Jersey Shore Pick 6 Carryover At $225,119 Entering Saturday's 12-Race Card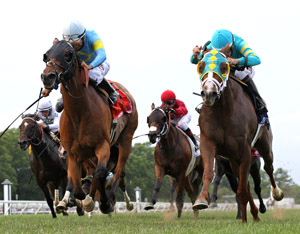 Saturday's 12-race card at Monmouth Park – already a challenge for handicappers because of the variety of races and distances ranging from five furlongs to a rare mile and a quarter starter allowance — will offer an added inducement for bettors: A record Jersey Shore Pick 6 carryover of $225,119. 
The 20-cent wager again failed to produce a single winning ticket holder on Friday's card. The jackpot is paid out only if there is one winning ticket. 
Friday's payoff for selecting six winners was $2,894.94 for 20 cents. The sequence started with Great Adventurer ($5.60) in the 3rd race and followed with She'sgotthebeat ($17.40) in the 4th race, Crown of Joy ($9.60) in the 5th race, King Midas ($11.00) in the 6th race, Amelia's Wild Ride ($7.00) in the 7th race and Just Sisters ($11.40) in the 8th and final race. 
Saturday's Pick 6 starts with race seven. First race post is 12:50 p.m.