Jersey Shore Pick 6 Carryover At $205,096 For Saturday's 10-Race Card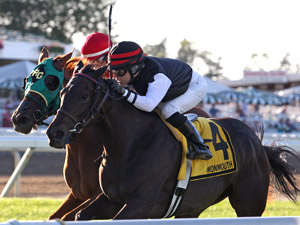 The Jersey Shore Pick 6 carryover has grown to a record $205,096 for Monmouth Park's 10-race card on Saturday after failing to produce just a single winning ticket, as required to take the entire pool for the 20-cent jackpot bet, on Friday's eight-race program. 
Friday's short price-dominated sequence began with Go Black Betty ($4.80) in the 3rd race, followed by Steamboat Bill ($7.00) in the 4th race, Swagger ($4.60) in the 5th race, I Idolize You ($3.40) in the 6th race, Gangbusters ($9.00) in the 7th race and No Trespassing ($10.80) in the 8th and final race. 
Picking all six winners returned $182.78 for 20 cents. 
Saturday's Jersey Shore Pick 6 will begin in race five and culminate in race 10. First race post is 12:50 p.m..