Jersey Shore Pick 6 Carryover At $160,483 For Saturday's 11-Race Card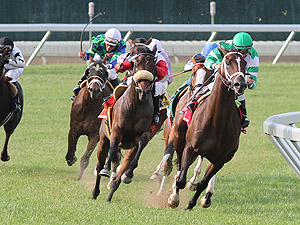 A record carryover of $160,483 in the Jersey Shore Pick 6 awaits handicappers for Monmouth Park's 11-race card on Saturday as the jackpot bet went unhit again on Friday by a single winning ticket. 
The Pick 6 sequence started in the third race with Don's Escapade ($10.60) and followed with Pretti Tricki ($4.00) in the fourth race, Skipper Dancer ($6.20) in the fifth race, Street Appeal ($10.00) in the sixth race, Fashion Break in the seventh race ($4.60) and Bye Crazy Eyes ($4.80) in the eighth and final race on the card. 
Six winners returned $510.28 for a 20 cents wager. 
The jackpot is paid out only if there is a single ticket with all six winners. 
The Jersey Shore Pick 6 will start in the sixth race on Saturday. Post time is 12:50 P.M. 
The 51st running of the Grade 1, $1 million Haskell Invitational is on Sunday, with a special first post of noon.