Jersey Shore Pick 6 Carryover At $151,683 For Sunday's 10-Race Card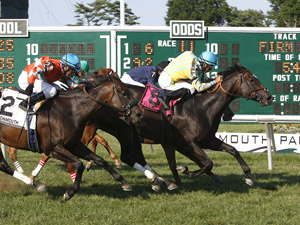 The Jersey Shore Pick 6 avoided being hit by a single winner yet again on Saturday, with the carryover now at $151,683 heading into Monmouth Park's 10-race card on Sunday. 
The 20-cent wager pays out the entire pool only if there is a single winning ticket. 
Picking six winners on Saturday returned $855.64 for 20 cents. The sequence started with Magic Hatter ($2.80) in the 6th race and was followed by Draxhall Woods ($9.00) in the 7th race, Amapola ($3.60) in the 8th race, Be A Hero ($5.00) in the 9th race, Miss Deplorable ($27.20) in the 10th race and A Sixties Tune ($17.00) in the 11th and final race. 
First race post on Sunday is 12:50 p.m. The Jersey Shore Pick 6 starts in the 5th race.