Jersey Shore Pick 6 Carryover At $144,838 Heading Into Saturday's 11-Race Card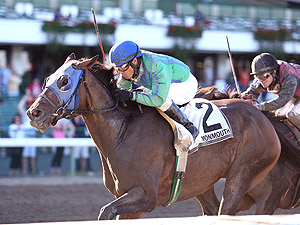 The Jersey Shore Pick 6 carryover has grown to $144,838 for Saturday's 11-race card at Monmouth Park after failing to produce a single winning jackpot ticket yet again on Friday. 
The 20-cent wager only pays out the entire pool to a single winning ticket. 
Friday's pick 6 sequence returned $279.06 for six winners, starting in the 3rd race with first-time starter Blowin Smoke ($10.00), followed by Daytime Lover ($2.60) in the 4th race, Rough Night ($6.60) in the 5th race, Kodiak Katie ($3.60) in the 6th race, Brexit Revenge ($3.80) in the 7th race and Celebrity Warrior ($9.00) in the 8th and final race. 
First race post time for Saturday's card is 12:50 p.m. The Jersey Shore Pick 6 starts with race six that day.