Jersey Shore Pick 6 Carryover At $132,884 Heading Into Sunday's 11-Race Monmouth Card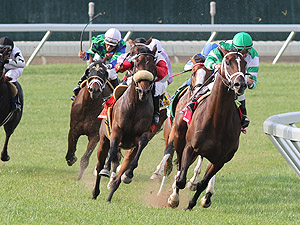 The Jersey Shore Pick 6 failed to produce a single jackpot winner once again on Saturday at Monmouth Park, resulting in a carryover of $132,884 heading into Sunday's 11-race card. First race post is 12:50 p.m., with the Jersey Shore Pick 6 sequence starting in the sixth race. 
The 20-cent wager requires a single winning ticket to collect the jackpot. But picking six winners on Saturday still resulted in a payoff of $1,800 for 20 cents, despite just one big upset winner over the six races. 
Saturday's sequence started with Going Abroad ($3.40) in the seventh race, followed by Rough Night ($42.00) in the eighth race, Papa Joel ($6.40) in the ninth race, Majestic Dunhill ($5.20) in the 10th race, Band of Angels ($3.80) in the 11th race and Sweet Reef ($3.40) in the 12th and final race.