Jersey Shore Pick 6 Carryover At $116,514 Heading Into Friday's Monmouth Park Card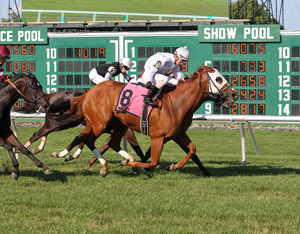 The Jersey Shore Pick 6 carryover stands at $116,514 after going unhit yet again on Monmouth Park's Sunday card, with handicappers getting their next crack at the jackpot bet when racing resumes on Friday, July 13, with an eight-race card. That marks the start of Friday racing at the Shore track for the rest of the summer, with a post-time of 1:15 p.m. those days. 
Post time for Saturdays and Sundays remains at 12:50 p.m. 
The Jersey Shore Pick 6, a 20-cent bet that pays out the entire jackpot only to a single winner, returned $578.56 for 20 cents for those picking six winners on Sunday. 
The sequence started with Rhythm Park ($3.80) in the seventh race and followed with Sindarius ($5.80) in the eighth race, Great Rhythm ($4.00) in the ninth race, Racinginthestreet ($10.40) in the 10th race, Blank Paige ($3.00) in the 11th race and Jiggy Cheese Dog ($28.40) in the 12th and final race.