Jersey Shore Pick 6 Carryover At $103,863 Heading Into Sunday's Card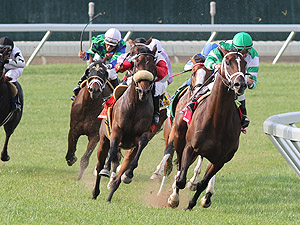 Handicappers will have a hefty carryover to take aim at during Monmouth Park's 12-race Sunday card, with the Jersey Shore Pick 6 carryover swelling to $103,863 after going unhit again on a single ticket during Saturday's card. 
The 20-cent jackpot bet covers the final six races. 
Even with five of the six winners in the sequence winning at odds of 3-1 or less on Saturday, the Pick 6 return was $2,260.62 for 20 cents. The winners were Tizcreetly ($4.40) in the 6th race, Jump Ruler ($3.60) in the 7th, More To Adore ($8.60) in the 8th, Optic Way ($23.80) in the 9th, Little Code ($6.20) in the 10th and Casino King ($6.40) in the 11th and final race. 
Sunday's card features 12 races, with the Jersey Shore Pick 6 starting in race 7. 
First race post is 12:50 p.m.