Jersey Shore Food Truck Festival Tops 3-Day Memorial Day Weekend At Monmouth Park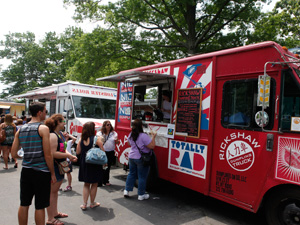 The popular Jersey Shore Food Truck Festival, the first bundled stakes card of the season and a guaranteed pick 5 of $150,000 if there is a single winner of the bet on Saturday will complement an action-packed three-day Memorial Day weekend of live racing at Monmouth Park from Saturday through Monday, May 26-28. 
The Jersey Food Truck Festival will feature 45 trucks on site over the three days. Gates will open at 11 a.m. Saturday and Sunday to accommodate food enthusiasts before returning to the usual 11:30 opening on Monday. 
Post time for live racing all three days is 12:50 p.m. 
The bundled stakes card on Saturday is topped by the Grade 2 Monmouth Stakes and the Grade 3 Salvator Mile and includes the Boiling Spring Stakes and the John J. Reilly Handicap. If there is a single winner of the late pick 5 that day – which includes all four stakes races – the payout to that person is guaranteed to be $150,000. 
Saturday and Sunday are also Family Fun Days, with face painters, clowns, pony rides and a bounce house available for free to children 12 and under. 
Live music will be featured throughout the weekend, starting with country artist Lauren Davidson on the main stage and the Jay and Rob Duo on the second stage on