Jersey Shore Food Truck Festival, Bundled Stakes Card Kick Off Busy Three-Day Holiday Weekend Starting Saturday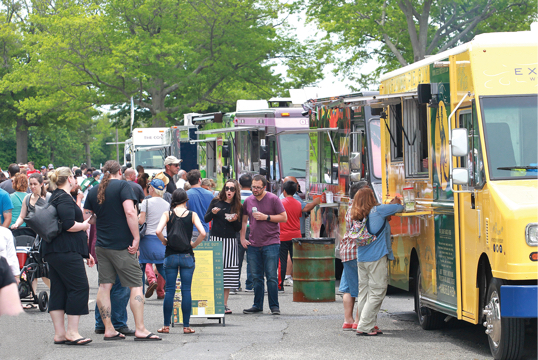 The popular Jersey Shore Food Truck Festival will begin a three-day run at Monmouth Park on Saturday that coincides with three straight days of live racing over an event-packed Memorial Day weekend at the Shore track.
Forty-two trucks will be offering culinary delights from 11 a.m. to 5 p.m. Saturday through Monday.
Saturday's racing card features the first bundled stakes program of the year, with the Grade 2 Monmouth Stakes, the Grade 3 Salvator Mile, the Boiling Springs Stakes and the John J. Reilly Handicap highlighting a 13-race card.
The Miss Liberty Stakes goes as the feature race on Sunday, with the Hysterical Lady Stakes topping Monday's Memorial Day program.
Saturday also marks the start of the Survival at the Shore handicapping contest as well as the first day that tickets go on sale to the public for the Grade 1 TVG.com Haskell Invitational slated for July 20.
To be eligible for Survival at the Shore, a free online handicapping game, contestants must register by 11 a.m. on Saturday, May 25.
For further information visit Challenge@survivalattheshore.com.
Tickets for the Haskell Invitational will be available starting at 11:30 a.m. Saturday and may be purchased on line or at the track at the reserved ticket booth on the second floor of the grandstand.
Live music is also on tap throughout the extended weekend, starting on Saturday with country artist Lauren Davidson performing "On the Green" from noon to 4 p.m. and Kristen Baum playing on the second stage, also from noon to 4 p.m.
Brent &Co. and Jessica Rose will be the two featured Sunday performers with the band Sundries taking the stage on Monday.
Saturday and Sunday will also be Family Fun Days, with free clowns, face painters, a bounce house and pony rides for children 12 and under.