After First Stakes Win In 11 Years, Nunn Looking For Fast Start As Monmouth-At-Meadowlands Meet Gets Underway On Friday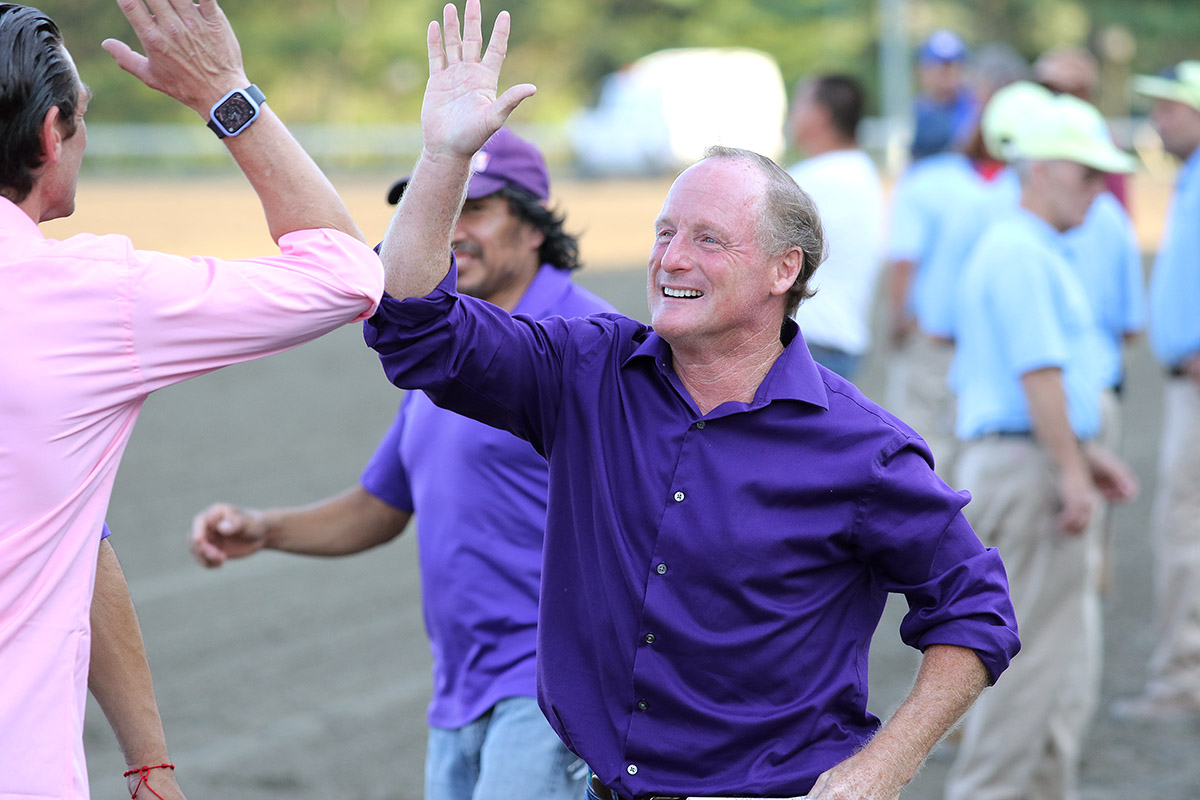 After winning the Joey P. Handicap on the next-to-last race of the Monmouth Park meet on Sunday – ending a drought of 11 years without a stakes winner – trainer Doug Nunn is looking to carry that momentum into the all-turf Monmouth-at-Meadowlands meet that gets underway Friday night.
He has a chance to do just that when he sends out Maxine Machine, a recent $25,000 claim, in the featured $45,000 allowance for 3-year-old fillies that goes as the sixth race on the opening card.
The nine-day Monmouth-at-Meadowland meet will be held on Fridays and Saturdays from Sept. 23 through Oct. 22 with the exception of Saturday, Oct. 15, when Far Hills will feature its 101st steeplechase meet.
Post time for the Monmouth-at-Meadowlands cards is 7 p.m. Six races will be conducted nightly. Fixed odds wagering will be available on those cards at both the Meadowlands and Monmouth Park, as well as through monmouthbets.com.
"It's nice to finish up the Monmouth Park like that because it can be a long winter," said Nunn. "I think I am really loaded for the Meadowlands. We have some horses we'll take some chances with and drop them in."
Maxine Machine, a daughter of Pioneerof the Nile-Emma's Encore by Congrats, will be making her second start for Nunn on Friday after owner Robert Slack claimed her from Brad Cox's barn. She finished second for her new connections on Sept. 10 at Delaware Park.
"She came from a really good barn," said Nunn. "I've had her long enough to see that she seems to be one of those fillies that is just learning to run. I was really impressed with her first race for us. She got boxed in and didn't really get out in time. I think she will move forward off that race."
The Friday feature, at a mile and a sixteenth on the turf, has attracted a field of nine.
For Nunn, a victory by Maxine Machine would extend a season for the veteran conditioner that has been a mixed bag. He won 10 races from 93 starters at the Monmouth Park meet after going 16-for-85 in 2021. But overall, his 23 victories this year are a personal best in a career that began in 1992.
The victory by Smithwick's Spice in the Joey P. Handicap marked Nunn's first stakes winner since Karmageddon won the Jersey Girl Stakes at Monmouth Park on Sept. 17, 2011.
"Coming into the Monmouth Park meet I think I had too many starts at Tampa. I wore some horses out," said Nunn. "Then I got off to a late start with some of my Jersey-breds, which is a key part of the meet. They weren't ready early on.
"Hopefully, we'll be able to get a few more wins at the Meadowlands heading into the winter."