Impressive Monmouth Park Debut Winner Affable Monarch Pointing To Grade 1 Champagne Stakes For Next Start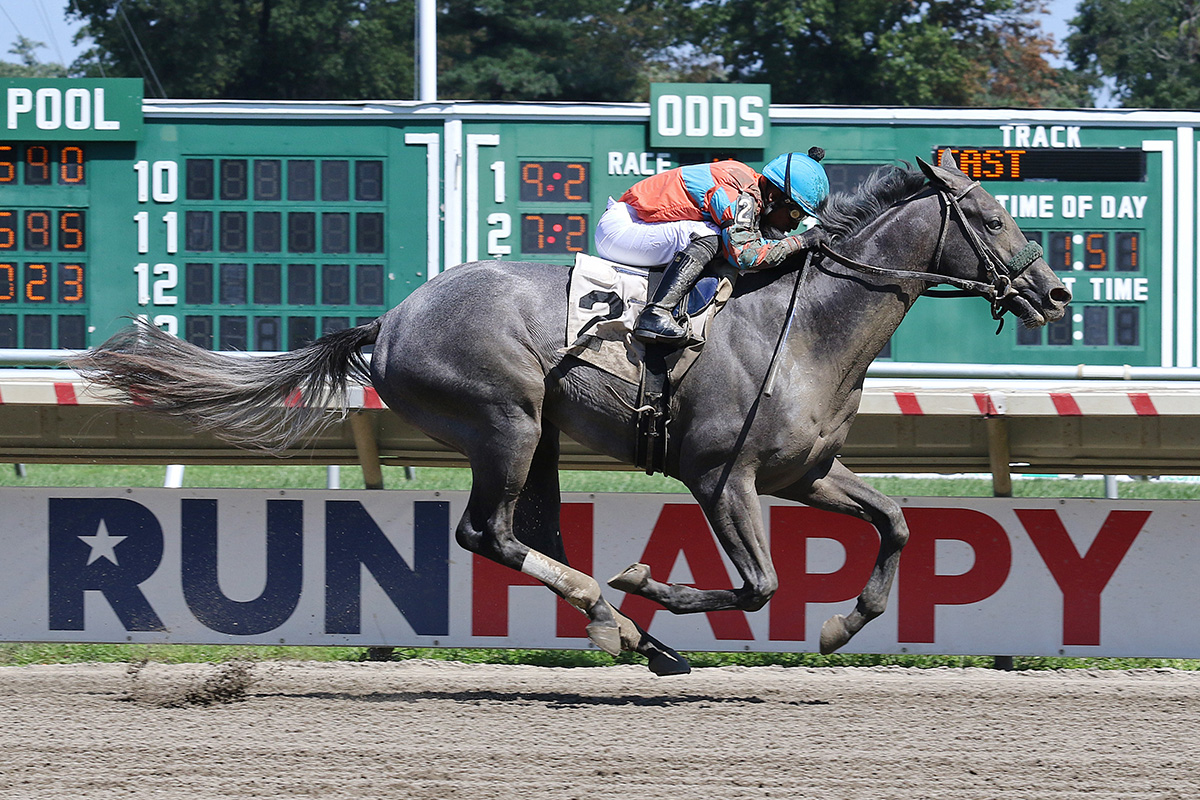 After patiently waiting to get promising 2-year-old Affable Monarch to the races until last Sunday at Monmouth Park, trainer Jorge Duarte doesn't intend to show nearly as much restraint before giving the son of late Arrogate his first significant test.
An impressive 6½-length winner against Maiden Special Weight company, Affable Monarch's next start could be in the Grade 1 Champagne Stakes at Belmont Park on Oct. 2 if the Colts Neck Stables homebred stays on schedule
"I think the way he came out of this race and what he got out of this race, it was a good learning experience. It didn't take anything out of him," Duarte said. "He cooled out very fast. The way he ran and galloped out I think he wants to go longer for sure.
"The Champagne is a one-turn mile with those sweeping turns. He's a big, big horse who should like that. We'll have a couple of breezes and if he keeps training the way he has been I would take a shot in the Champagne to see what we have."
Kentucky-bred Affable Monarch became the just the second son of Arrogate to reach the winner's circle, with Adversity beating him there by an hour at Saratoga on Sunday.
Duarte said patience may be the key to any Arrogate offspring.
"I believe the Arrogates are a little late bloomers," he said. "He just had his first two winners on Sunday. Maybe that is the way they are going to trend. I can just go by what I have. I have a couple of Arrogates and this is the first one I got to the races. I know I have an Arrogate filly that may be a late one.
"But it's also not a bad time of the year to get them started if you think you have a good one."
Duarte's last try at the Champagne came in 2019, when Big City Bob finished third to Tiz the Law after breaking his maiden at Monmouth Park and winning the Sapling Stakes at the track.
He's also having the type of meet at Monmouth Park that suggests trying the Champagne may not be overly ambitious.
Duarte, Colts Neck Stables' private trainer, is 12-for-27 at Monmouth Park this year, having won with 10 of his past 19 starters. As a result, Colts Neck Stables tops the owner standings with 12 winners, five more than anyone else.
He has the added hope that Affable Monarch – who made his debut without Lasix — will be a good one because of the colt's dam, Social Queen. He's a half-brother to Grade 1 winner Force the Pass (Speightstown-Social Queen), who earned more than $1.3 million for Duarte and Colts Neck Stable.
He's also a half-brother to a Speightstown-Social Queen yearling who goes as Hip 154 in the first book of the Keeneland September Yearling Sale that starts on Sept. 13.
"We raced the mare (Social Queen), too," said Duarte. "She has been very good to us."
She may not be done returning dividends if Affable Monarch can live up to expectations.
"He's such a big colt. It just took him a little time to get into a rhythm," said Duarte. "He was always well-regarded by us. We always thought the way he was training he had a chance to be a good one. We were very excited to bring him to the races because they don't come along all the time, horses like him."