Huston Looks To Cap Best Year With A Flourish With Five Entered In Three Stakes During Saturday's Closing Day of Meadowlands-At-Monmouth Park Meet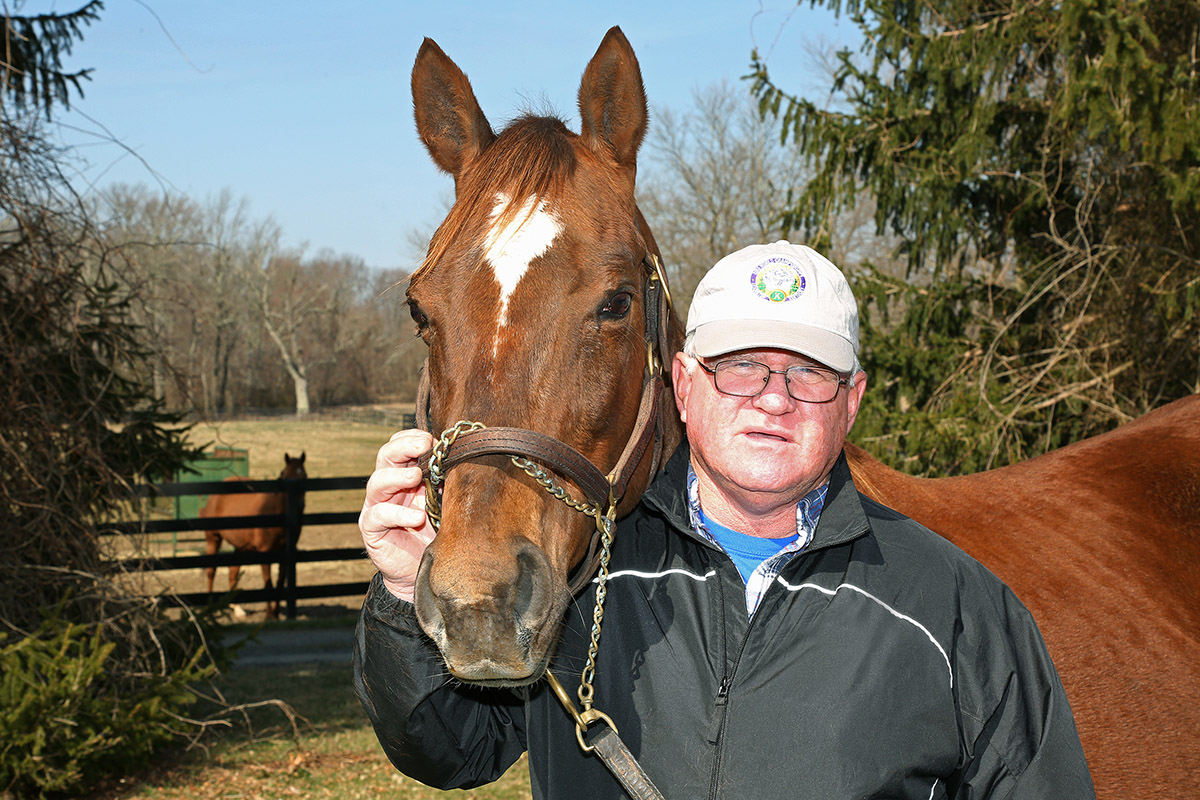 – For a trainer whose stable consists of "about 95 percent" Jersey-breds, Rory Huston could not have hand-picked a better final card for the Meadowlands-at-Monmouth Park meet as he closes out the best year of his career.
Saturday's 11-race program features three stakes races for Jersey-breds: The $75,000 Smart N Classy for fillies and mares 3 and up going a mile; the $75,000 Dan Horn for 3 year olds and up at a mile and a sixteenth on the grass, and the $75,000 Pinot Grigio for fillies and mares 3 and up at 5½ furlongs on the turf.
Huston has entered five horses in the three stakes races.
"I told someone the other day it's like New Jersey Thoroughbred Festival Day all over again," said Huston.
With six horses entered overall for the final day of the Thoroughbred racing season in New Jersey, Huston has a chance to finish the best season of his 11-year training career with a flourish.
He has already matched a personal best with 14 wins (from 100 starters) this year and his 2020 earnings of $701,125 are a career-best.
"I would say yes, it has been our best year yet," said Huston, who gears down most of his operation when the New Jersey racing season ends, returning to his role as manager of Overbrook Farm in nearby Colts Neck. "Everything came together well this year. The horses, knock on wood, have been healthy. The track has been good. A lot of the pots we won were for Jersey-breds worth $60,000, so that accounts for the earnings we've had."
Huston will only start a handful of horses at other tracks after Saturday, with his focus every year on Monmouth Park.
"We'll run a few elsewhere after this, but mostly I will be at the farm," he said. "We're foaling 15 mares and we have 11 yearlings that we're breaking. I usually stop once the weather starts to go bad. We give the horses a couple of months off and then have them ready to come back when Monmouth Park re-opens."
Before that happens, Huston has some unfinished business.
He has Groovy Surprise and Dantastic in the Smart N Classy, Wallercito in the Dan Horn and both Joy's Pride and Pretti Tricki in the Pinot Grigio.
Groovy Surprise is coming off a third-place finish in a $16,000 optional claimer while Dantastic is coming off a solid Maiden Special Weight victory.
"I like the way Groovy Surprise is coming into this race," he said. "I feel good about her. I feel good about Dantastic, too. She has needed to go longer. We've tried to go long all summer with her but every time we entered her the race didn't go."
Wallercito comes into the Dan Horn off of consecutive runner-up finishes and is trying the turf again after breaking his maiden on the grass last year in his only career try on the surface. In the Pinot Grigio Stakes, Pretti Tricki will race for the final time, with the 5-year-old mare having banked $161,136 during a 21-race career.
"She's going to be a broodmare after this," said Huston. "Hopefully she will run big and end her career well."
Joy's Pride comes into the same race with her only career win on the turf, but is trying a grass sprint for the first time.
If just one of Huston's starters manages to find the winner's circle his win total for the year will be a career best.
"If it happens it happens," he said. "This has been a very good year either way. My crew did a great job, my wife helps gallop and run the shed row, and everything has come together this year, even with the late start due to the virus.
"I have no complaints."