Howgreatisnate Surges Late To Win Saturday's $100,000 Long Branch Stakes On Monmouth Park's Opening Day Card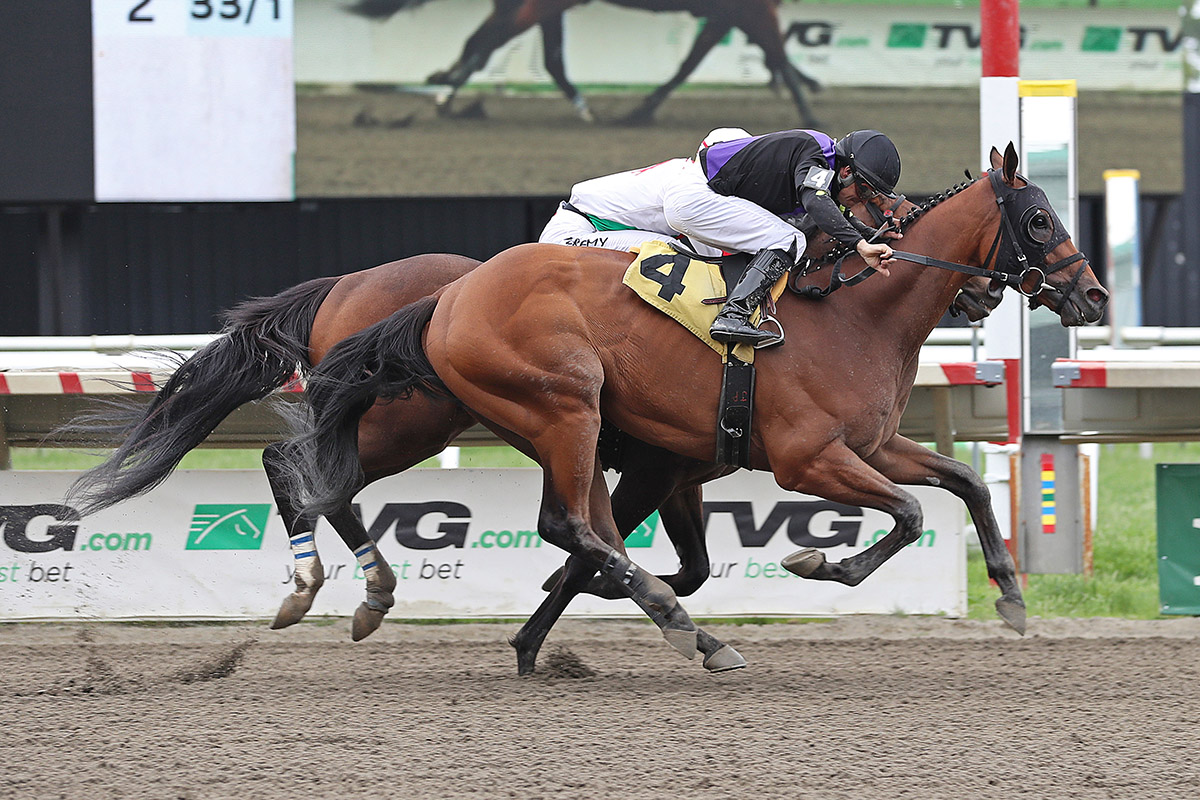 John Guarnere always had high expectations for Howgreatisnate, even though the gelding had never won going two turns.
"I thought he was a Kentucky Derby horse," said Guarnere, whose horses race under the Nom de Course of Imaginary Stables.
Howgreatisnate won't make any of the Triple Crown races but he could be bound for the TVG.com Haskell Stakes at Monmouth Park after surging to a stirring victory by a head in Saturday's $100,000 Long Branch Stakes on opening day at the Jersey Shore track.
Shipped from trainer Elizabeth Dobles' base in Palm Meadows, Fla., Howgreatisnate overcame a wide trip and then nudged clear under jockey Jairo Rendon's urging to get by Offaly Cool in deep stretch. It was another three lengths back to Ninetyprcentmaddie in third.
"I always believed the horse could go a distance," said Dobles, who gallops many of her horses. "I loved his short races. He was phenomenal going short. I think he can be a better horse going longer. The only concern was I didn't want him to get checked. I watched his last race (the Private Terms at Laurel) and he got checked a few times. Once he gets checked he loses his interest."
Howgreatisnate, a Kentucky-bred son of Speightster-Bee Dees Bird by Tapit, was making his first start for Dobles after being shifted from the barn of Andrew Simoff two months ago. After going 4-for-4 at 2 – all sprints – Howgreatisnate stumbled and lost the jockey in the Grade 3 Gotham in his first start at 3 and then was a trouble-filled fourth in the Private Terms at Laurel on March 18.
"John wanted to run the horse in a few races and they decided it would be best to send the horse to me so I could point to the races John and I agreed to," said Dobles.
In her initial exuberance following the victory, Dobles said the horse's next start would be in the Grade 1 Haskell on July 22.
"No, wait — we're going to take him back down to Florida and let him recover from this race and then see how he is," she said.
As a result of the victory Howgreatisnate receives free entry and start fees to the Haskell.
Sent off at 5-1 in the field of six 3-year-olds, Howgreatisnate was fifth and wide through fast opening fractions set by longshot No Confession of :22.68 for the opening quarter mile and then 1:10.87 for six furlongs in the mile and 70 race.
Howgreatisnate, Offaly Cool and Ninetyprcentmaddie were then stacked across the track entering the final turn, with Howgreatisnate and Offaly Cool getting clear of the rest.
Offaly Cool opened a one-length lead in mid-stretch before Howgreatisnate surged on the outside.
The winning time was 1:41.21.
Even-money favorite Slip Mahoney was a non-threatening fourth.
"I was a little wide the first turn but the trainer told me he likes to be clear, so I was able to get him outside and clear," said Rendon. "Even though this is his first win around two turns I wasn't worried about him getting the distance. Elizabeth does such a great job I knew she would have him ready. He was trying to lug out a little bit late but he showed he has a lot of heart."
Dobles, who started training in 2016, owns one graded stakes win to her credit, with War Story winning the Grade 3 Harlan's Holiday in 2019. Guarnere made the trip from his home in Fort Lauderdale, Fla. to watch the horse at Monmouth Park in person.
"I was worried the first turn. He was going with them and then was shuffled back," said Dobles. "I liked the way (Rendon) took him to the outside to kind of get him away from the field. I saw going into the turn that they were moving quick. Usually he waits to make a move but I saw all of them go to the front and it worried me early. But battling down the stretch he showed his heart."