How Good Is 2-Year-Old Filly Horologist? Trainer Mazza Hopes To Learn More In Saturday's Sorority Stakes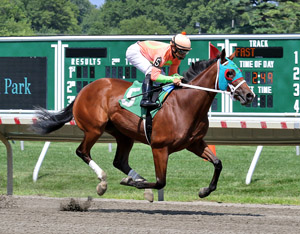 During his more than five decades as a trainer, John F. Mazza had never had a horse win by the margin that Horologist did in her racing debut on Aug. 9 at Monmouth Park, when the 2-year-old filly drew off to score a dazzling 20¾-length victory. 
"I got tears in my eyes seeing that," said Mazza. "I remember thinking `Holy cow, what do I have here?' " 
Mazza hopes to begin answering that question during Monmouth Park's 12-race card on Saturday. 
That's when the Jersey-bred Horologist will face open company in the $75.000 Sorority Stakes at a mile on the grass. The track's signature race for 2-year-old fillies will be part of a stakes lineup that includes the Grade 3 Violet at a mile and an eighth on the grass, the Grade 3 Red Bank at a mile on the grass and the $75,000 Sapling for 2-year-olds at a mile on the dirt. 
Monmouth Park's four-day Labor Day race weekend starts with an eight-race card on Friday and concludes with live racing on Monday, Sept. 3. 
Mazza, having a solid meet (7-for-24) at the age of 81, is confident Horologist can follow up her impressive debut with another strong performance – though her first race was at 5½ furlongs on the dirt and the Sorority is a mile on the grass. 
"She breezed in :47.4 the other day (Aug. 28) and she did it so easily," said Mazza. "We always knew she had some talent but I didn't expect her to win the way she did. That's the first time in my life I've had a horse win like that. She came out of that race great and now she's working like she is ready to run a big one again. When she worked in :47.4 she was under a tight hold. She likes to run off after she breezes." 
Mazza does not see turf as being a problem for the daughter of Gemologist-Cinderella Time by Stephen Got Even. 
"We looked up her breeding, with Tiznow (the sire of Gemologist) and the bottom line, and there were 259 horses with that breeding line and they won $13 million on the grass," said Mazza. "So I think she will handle it well. She even likes an off track. She loves splashing in the mud. 
"When we broke her we galloped her on the grass and they told me that they thought she would be a grass horse because of the way she went over it." 
Mazza, for all of his 57 years in Barn 3 on the Monmouth backstretch, has only won the Sorority once before, doing so with Divine Answer in 1988. 
Thirty years later, he thinks he has another one capable of winning the Sorority again. 
"They're going to have to run to beat her," he said. "We don't know what kind of filly she is. This is when you start to find out about them."