Hot Rod Charlie, 6-5 Morning Line Favorite, To Shed Blinkers For His Next Big Test In Saturday's TVG.com Haskell Stakes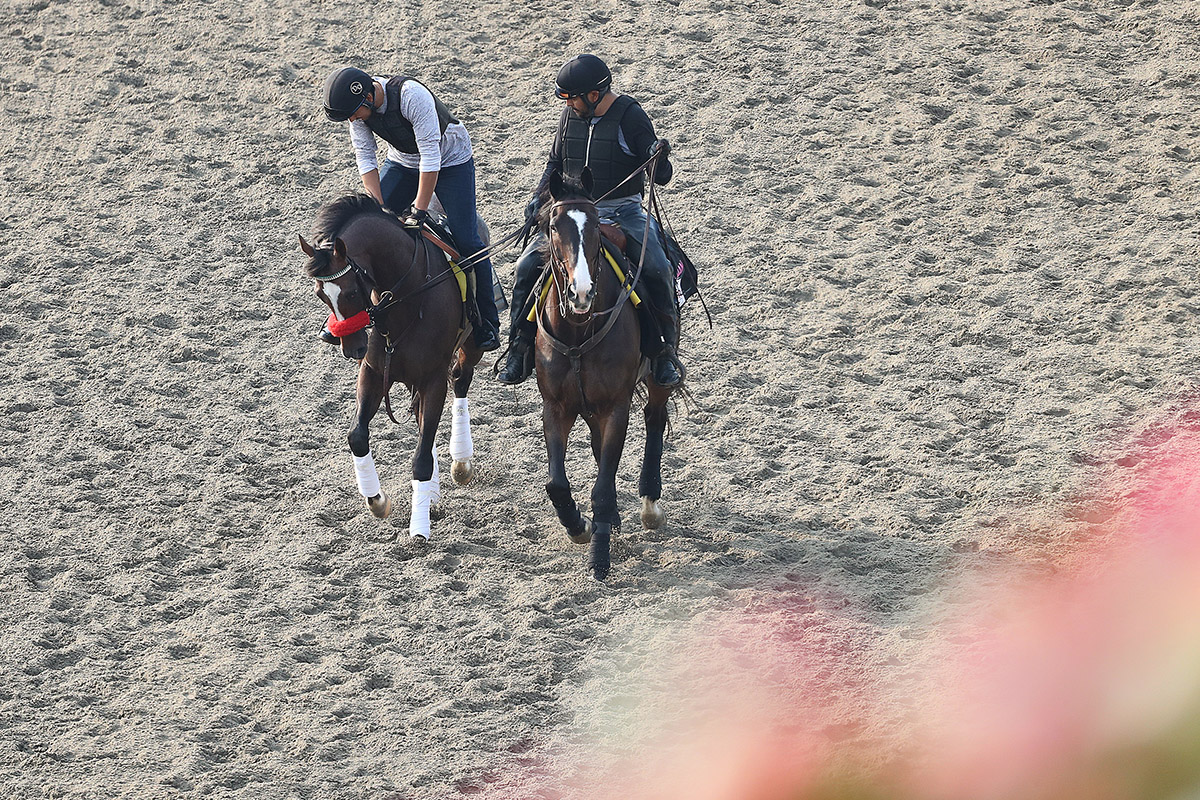 He was third in the Kentucky Derby, then second in the Belmont Stakes. On Saturday, exactly six weeks after Hot Rod Charlie made his last start, the $1 million TVG.com Haskell Stakes at Monmouth Park could be the breakout race where he crosses the wire in front the other six talented 3-year-old colts and notches his first Grade 1 victory.
"I sure hope so," said Doug O'Neill, who trains the colt for the partnership of Boat Racing, Gainesway Stable, Roadrunner Racing and William Strauss. O'Neill was at the barn on the Monmouth Park backside with Strauss, the founder and CEO of Pro-Flowers.com, overseeing final preparations Friday morning after jetting in from his Southern California base.
Hot Rod Charlie is by 2013 Preakness winner Oxbow out of Indian Miss, making him a half-brother to champion sprinter Mitole. His pedigree is blessed with speed and the stamina to stay the 1 1/8 miles of the Haskell.
To give him an extra edge for this trip, O'Neill decided that an equipment change was in order.
The winner of the Grade 2 Louisiana Derby has worn blinkers in six of his last nine efforts, but will not race with them Saturday when he and jockey Flavien Prat depart from post 4 as the 6-5 morning line favorite in the field that includes Kentucky Derby runner-up Madaloun, the 2-1 second choice on the morning line; 3-1 Following Sea; 9-2 Midnight Bourbon, the Preakness runner-up; and three locally-based horses in the New Jersey-bred Pickin' Time at 20-1 and co-longshots Antigravity and Basso at 30-1.
"This time we're pulling the blinkers off, which is kind of a chancy thing since his form is so strong and he's heading the right way and now we're tweaking his equipment," said O'Neill. "We've been breezing him without blinkers and Flavien is real excited about what we could see without them. He's got that (Derby) third, and then the (Belmont) second, and hopefully, a win is right around the corner."
In addition to pulling down a seven-figure purse and earning a Grade 1 victory, the Haskell winner is guaranteed an all-expenses-paid spot in the starting gate for the $6 million Breeders' Cup Classic as part of the "Win and You're In" Breeders' Cup Challenge Series presented by America's Best Racing. The 2021 Breeders' Cup on the first weekend in November is being contested at Del Mar, which is home for the O'Neill stable.
"That's a huge bonus as well. I hate to get too far ahead of us. It's a big day tomorrow and I couldn't be happier with the way he's coming into it," he said.
Spendthrift Farm's homebred Following Sea was transferred to Todd Pletcher in May and he has turned heads by winning the last two of his three career efforts by a combined 12¼ lengths with Joel Rosario at the reins.
But the son of champion sprinter Runhappy is stretching out from 6½ furlongs and has never negotiated two turns. Moreover, he's taking a huge class jump from a first level allowance race all the way to this Grade 1 stakes.
"The rail horse (Following Sea) is a huge `X' factor," said O'Neill. "It's his first time going this distance. He's been brilliant in his wins, and he's got Joel, who is a brilliant rider. I would think he'll make the pace and then it will be up to Flavien to judge where he wants to have Charlie.
"Midnight Bourbon is kind of an `X' factor, too, with Paco (Lopez) on him. I assume he'll be sent pretty hard, too. Even though it's a short field it's an interesting jockey race."
While Hot Rod Charlie is looking for his first Grade 1 win, his trainer hopes to garner his first Haskell trophy in his fourth try. 2016 Kentucky Derby winner Nyquist was fourth in 2016, Handsome Mike finished fourth in 2012, and Excessivepleasure was seventh in 2003 for O'Neill.
"At this stage Charlie does seem like he's getting better and better and with a little bit of luck there are a lot of chapters left to be written in his book," O'Neill said. "We're excited for the second half of the 3-year-old season, and the Haskell is a big test for us. It's an honor to be here, and I feel grateful that I'm here with this horse."
*************************************************************Basso's listed ownership group is Michael Fazio and Monmouth Stud, the stable name for trainer Gregg Sacco. Nonetheless, there is a silent partner in the group and his name is Michael Basso.
Saturday could not be a bigger deal for these three Jersey guys since Basso is their first Haskell starter.
"As Mike (Fazio) and I got into this business it was always our goal every year to have a Haskell horse," said Basso. "For Jersey guys who grew up around here, our goal is to get to the Haskell. The Kentucky Derby is a dream on top of a dream, and so is the Breeders' Cup. But our goal every year to have a horse here."
They came heartbreakingly close in 2019 with Joevia, who had finished third in the Belmont and was entered in the Haskell. But a foot injury on race day necessitated a late scratch.
"Two years ago with Joevia we thought we had a good shot and we were excited. That was extremely disappointing," said Basso. "This year we didn't think we were going to make it. When Gregg called us he said `it's our home track and we can always run in an allowance race, but you can only run in the Haskell once.' Like I said, this is our Kentucky Derby."
And that name?
"We bought the horse at a sale and when it came time to name him I told Mike, `you picked out the horse, you name the horse.' I got an email from The Jockey Club and I saw the horse's name and I just started laughing," said Basso. "Maybe it's meant to be."
By Lynne Snierson
Monmouth Park publicty