Hollywood Jet's Seven-Race Winning Streak Faces Major Test In Saturday's Talent-Laden Mr. Prospector Stakes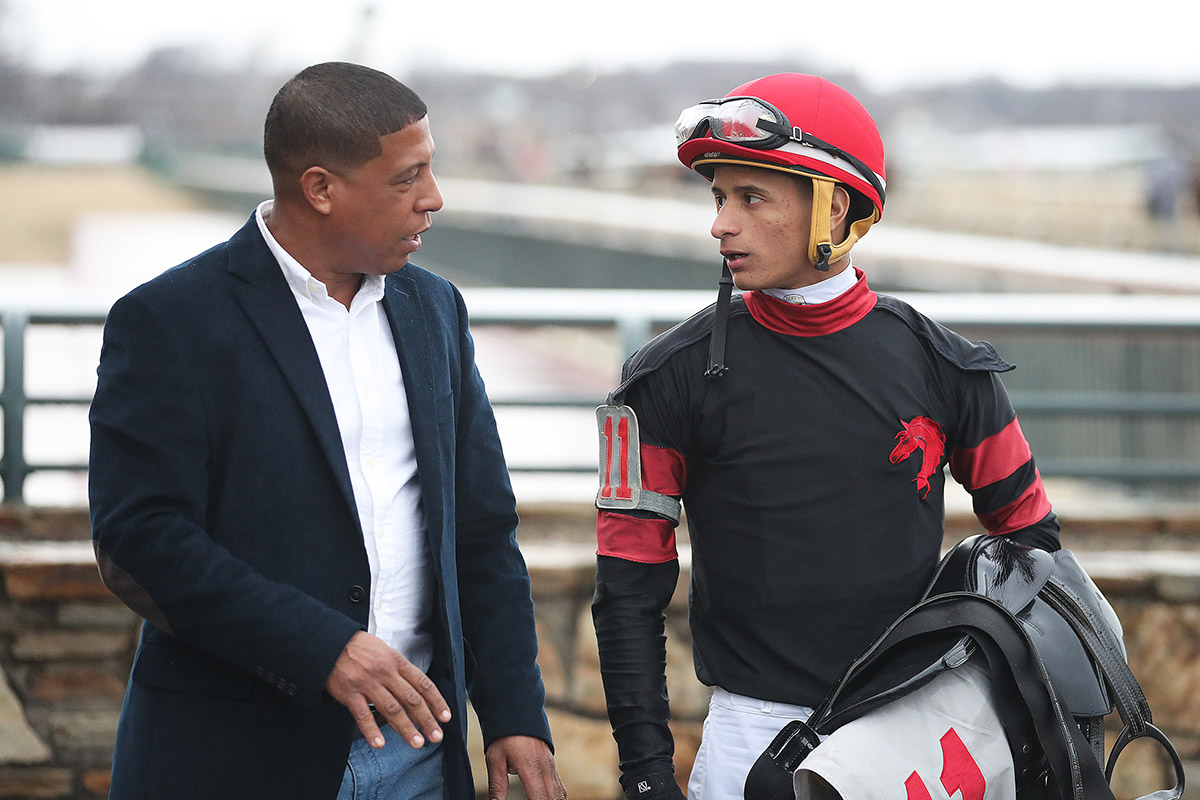 After seven straight wins, but just one against stakes competition, trainer Carlos Milian says it's time to test Hollywood Jet again.
He will do just that in Saturday's $100,000 Mr. Prospector Stakes at Monmouth Park, with the six-furlong feature teeming with both speed and talent. Milian isn't quite sure where Hollywood Jet fits in that, acknowledging that "this is the toughest challenge of his career so far."
But Hollywood Jet is fast. "Very fast," said Milian.
The problem is, speed is in abundance in the Mr. Prospector, from the Carlos David-trained Quick Tempo, who is shipping in from Churchill Downs, to Oaklawn shipper Greeley and Ben, to the Kelly Breen-trained River Dog. Looming as a major contender off the pace is Drafted, who has posted victories in Grade 3 stakes in two of his past three races. In between, he was fifth in the Grade 1 Carter.
Then there's Hollywood Jet, claimed by Milian at the urging of his son on May 15, 2021 for $12,500.
The career statistics for the gelded 4-year-old son of Uncaptured are dazzling. From 14 career starts he has nine wins, two seconds and two thirds. He started his seven-race winning streak last Sept. 20, with his most recent score by 10½ lengths at Parx on May 17.
But with the exception of the Fishtown Stakes on March 7, Hollywood Jet has, Milian concedes, been carefully spotted. One other issue: The horse has only raced at Parx throughout his career.
"I've tried to guide him into easier spots than this race," said the Parx-based Milian. "I really haven't tried a tough field like this for him. Now it's time to try better company.
"The way he is running lately he is telling me he is ready to go forward. The way he destroyed the field in his last race he is telling me he wants to try another stakes race."
Since Milian claimed the horse for himself, Hollywood Jet has eight wins, a second and a third in 11 starts. He blames himself for the one off-the-board finish of the horse's career, with Hollywood Jet a well-beaten fifth against allowance company last July 14.
"I consider that my mistake because I tried to change the way he runs that race," said Milian. "There was a lot of speed in that race too, so I told the jockey (Luis Ocasio, his regular rider) to take him back and make him close. He did not like that. He was fighting the jockey the whole way.
"He is a speed horse. That's the way he runs. I know there are a few horses in this race that are going to be tough to beat. I know a lot of them also have speed. But my horse loves to fight. He will be out there fighting with them for the lead. He loves that. That is how he loves to race."
The other concern Milian has is shipping.
"I'm definitely worried about him going to another track for the first time," he said. "It's not the same when you are shipping out the same day of the race like he will do for this. It's not the same for the horse. He is used to one track for his career and now we are shipping him out. So that could be an issue."
The Mr. Prospector Stakes headlines a 12-race card on a Saturday card that falls in the middle of the start of three-day racing weekends at Monmouth Park. The track's first Friday card is set for a 2 p.m. start for an eight-race card. Post times on Saturday and Sunday are 12:15 p.m.