Healthy Paco Lopez Has Sights Set On Another Monmouth Park Riding Title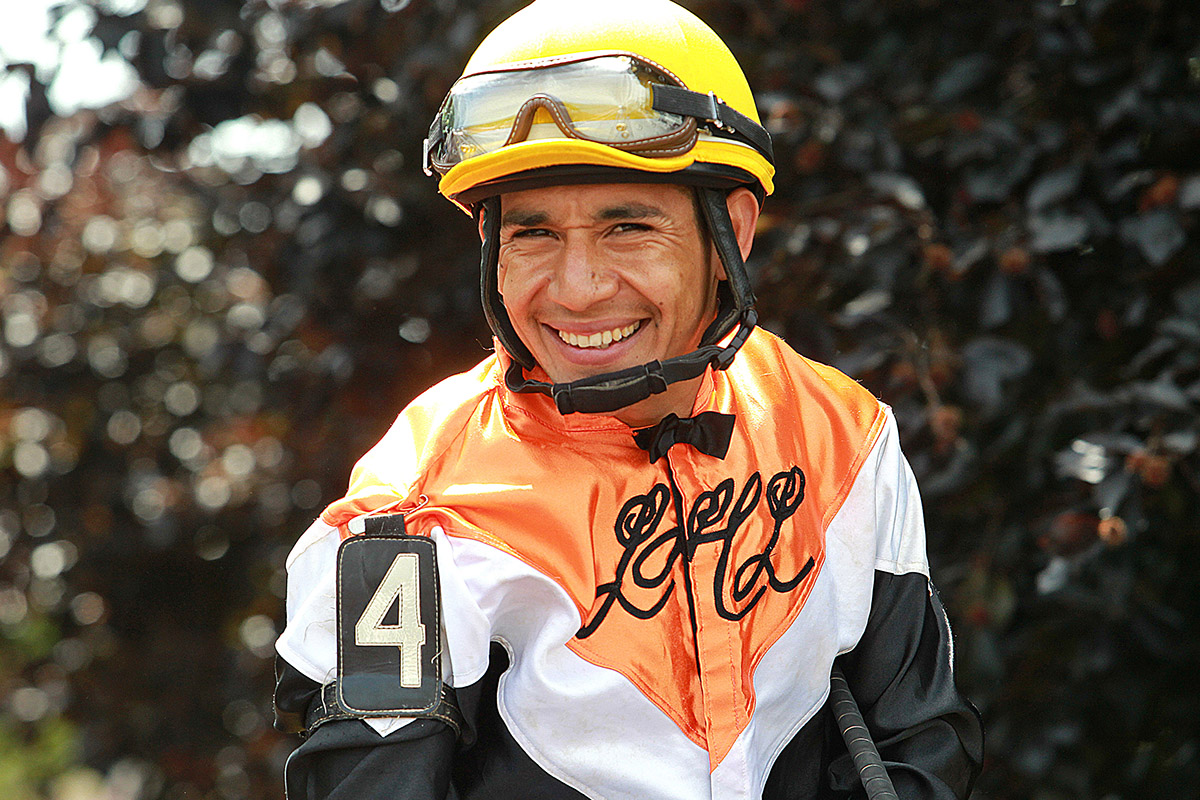 The competition may change from one summer to the next but the goal never does for Paco Lopez. Once the 34-year arrives at Monmouth Park he does so with a single-minded objective: To be the leading rider.
With his right thumb fully healed following surgery on April 14, Lopez has his sights set on a seventh riding title when Monmouth Park's 75th season of racing gets underway on Friday, July 3.
"I want to try to win it again. I come to Monmouth Park thinking that every year," said Lopez.
The native of Veracruz, Mexico, notched his sixth Monmouth Park jockey title a year ago, leaving him behind only Joe Bravo (13 titles) in number of titles won at the Jersey Shore oval.
But last year's finish atop the rider standings at Monmouth Park may have been his most impressive one yet. He didn't ride at the track until June 15 – six weeks after the meet started. Nik Juarez had built what looked to be a comfortable lead in the standings by then. Lopez caught and passed Juarez on the final weekend of the meet, finishing with 109 victories to Juarez's 107 in the closest jockey's race in track history.
The strong finish by Lopez included a victory aboard 14-1 shot Hunter O'Riley in the Grade 1 United Nations.
"You have to be lucky and stay healthy. But at least this time I will be there from the beginning of the meet, so maybe that will give me an extra advantage," Lopez said. "I know I will try hard for it. Every year things change so you don't know what will happen. There are new faces, new clients and new challenges. You have to see what happens."
Lopez will face some rigorous competition over the 37-day meet, with proven journeyman Victor Carrasaco, the 2013 Eclipse Award-winning apprentice, moving his tack from Maryland. Bravo is back as well, as are Juarez and reliable veterans Jose C. Ferrer and Angel Suarez, with Antonio Gallardo and Trevor McCarthy adding to the jockey room's star power. Gallardo, who had 65 mounts at Monmouth last year, has committed to full-time riding after recently capturing the jockey's title at Tampa Downs.
"The competition is very good this year," said Lopez. "But I like competition. The competition pushes me."
Lopez, who has more than 2,800 career wins, is coming off a career year, having set personal bests for victories (283) and earnings ($10.9 million-plus) in 2019.
He still sports a supporting brace on his right hand to help with his surgically-repaired thumb, which he fractured when he was unseated during a race on April 11 at Gulfstream Park. Lopez returned to riding on May 21, finishing third in the standings at the Gulfstream "Championship Meet" with 96 winners.
"I'm fine. I feel good. I'm ready to go," he said. "I love being here every summer. I keep coming back because I love Monmouth and I love being in New Jersey in the summer. As long as I stay healthy I think it will be a good meet."