Hawkish Looks To Return To Winning Ways In Saturday's $100,000 Cliff Hanger Stakes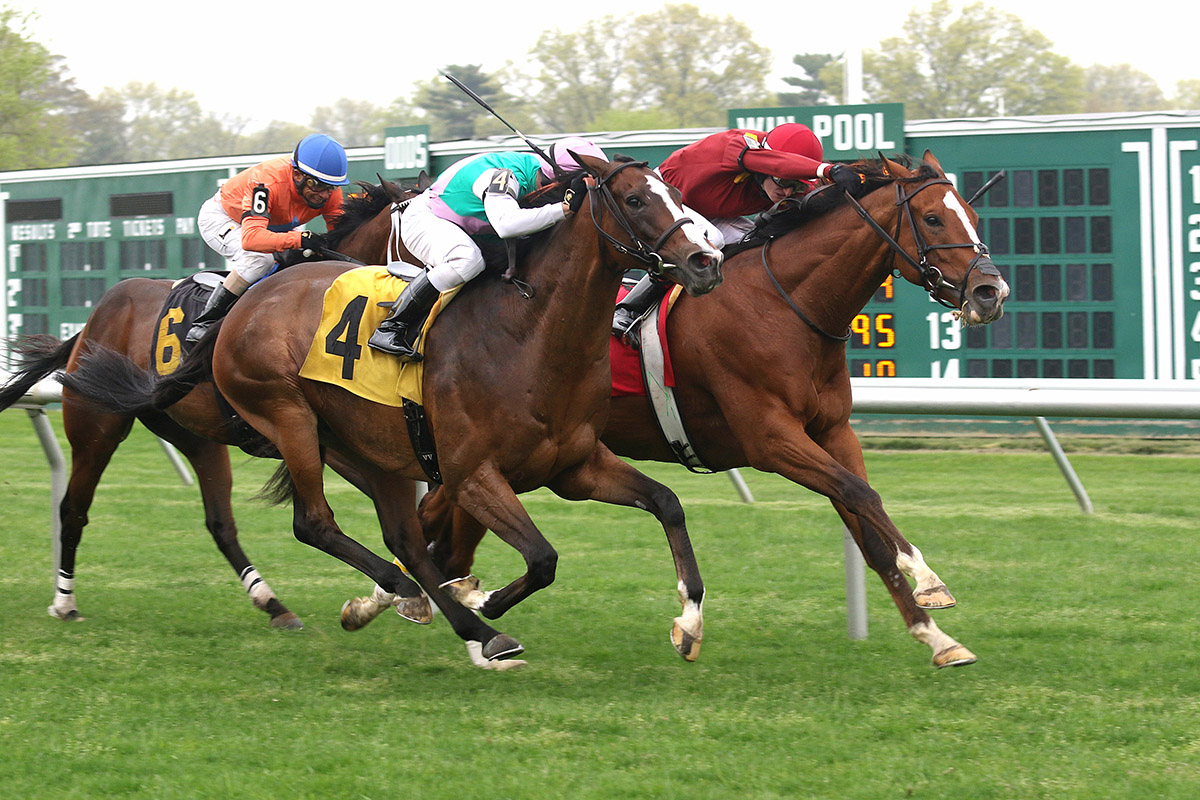 It was shortly after trainer Jimmy Toner nominated Hawkish to Saturday's $100,000 Cliff Hanger Stakes at Monmouth Park that he happened to see a picture of the horse winning that exact same race hanging in his office.
But he said he never noticed the date on the photograph. Told it was May 4, 2019, he was surprised.
"Was it really three years ago? That's hard to believe," said Toner. "I don't think he's won since then either."
For a variety of reasons, that's true. Hawkish, who owns a Grade 2 victory from the 2018 Penn Mile, enters the 42nd running of the Cliff Hanger off a winless drought that has stretched 13 races now.
But that hasn't diminished Toner's confidence in the Kentucky-bred 7-year-old when it comes to Saturday's mile and a sixteenth turf feature that kicks off a busy three-day Memorial Day weekend of live racing.
"He's a tough old pro and he shows he still wants to do it," said Toner. "We've just gone through so many different issues with him. It seems like every time we have him ready he comes up with a new issue. It's nothing ever too serious. Just enough to that you have to give him time.
"It takes a lot to get him ready and have him right. That's the whole thing."
In addition to the Cliff Hanger – which will be followed by Sunday's $100,000 Jersey Derby and Monday's $100,000 Miss Liberty Stakes as the racing highlights of the holiday weekend – the three-day Jersey Shore Food Truck Festival will mark its return with 35 trucks.
As for Hawkish, the son of Artie Schiller, owned by A J Suited Racing Stable and Madaket Stables, will make his third start of the year on Saturday. His seasonal debut on Jan. 16 at Gulfstream resulted in a solid second-place finish but Toner then had to wait until April 16 before Hawkish was ready again. He finished eighth in a deep allowance race at Keeneland that day.
"I wanted to run him back before that but he had another little issue and he needed a race so we sent him there," said Toner. "He needed that race. We're hoping the race at Monmouth is the right spot for him.
"When he's right he can be good. It's just a matter of getting him right. He's acting good right now and he's as good as he can be so we'll see how he does."
Hawkish sports a 4-4-1 line from 20 career starts with earnings of $539,390.
A victory in the Cliff Hanger includes a free entry and start fees to the $600,000 Grade 1 United Nations on July 23.