Haskell Invitational Tops $4.65 Million Stakes Schedule, Opening Day May 14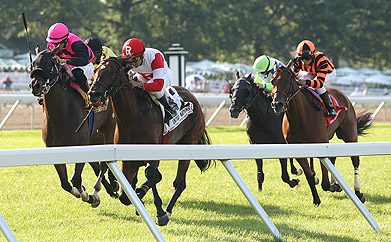 OCEANPORT, N.J. – Fresh off the heels of a record setting event last year, once again the $1 million Haskell Invitational leads this year's $4.65 million stakes schedule for the 2016 racing season at Monmouth Park Racetrack. 
Last year's Haskell featured American Pharoah, the first Triple Crown winner to race at the Jersey Shore, and his geared down victory en route to Horse of the Year honors.  This year's Grade 1 Haskell will be renewed on Sunday, July 31. 
The 2016 stakes schedule hosts 16 graded events, worth $2.9 million. In addition to the Haskell, other highlights include the Grade 1 United Nations on July 3, captured last year by champion turf horse Big Blue Kitten; Grade 2 Monmouth Cup and Grade 3 Molly Pitcher on Haskell Day; Grade 3 Pegasus Stakes on June 19; Grade 3 Monmouth Oaks on Aug. 20; and, Grade 3 Iselin Stakes on Aug. 27. 
The 2016 race meet gets underway on Saturday, May 14. 
The entire stakes schedule is: 
Run Date 

Stakes Name 

Purse 

Division 

Distance  

14-May-16 

Decathlon Stakes 

Listed 

$75,000  

3 and up 

6 furlongs 

21-May-16 

Majestic Light Stakes 

Listed 

$75,000  

3 and up 

1 mile 

28-May-16 

John J. Reilly Handicap 

NJ Breds 

$60,000  

3 and up 

6 furlongs 

29-May-16 

Miss Liberty Stakes 

Listed 

$75,000  

F&M 3 and up 

1 mile (Turf) 

30-May-16 

Open Mind Handicap 

NJ Breds 

$60,000  

F & M 3 and up 

6 furlongs 

4-Jun-16 

Crank It Up Stakes 

$60,000  

F 3 YO 

5 1/2 (Turf) 

5-Jun-16 

Red Bank Stakes 

GIII 

$100,000  

3 and up 

1 mile (Turf) 

11-Jun-16 

Honey Bee Stakes 

$60,000  

F & M 3 and up 

5 1/2 (Turf) 

12-Jun-16 

Select Stakes 

$60,000  

3 YO 

5 1/2 (Turf) 

18-Jun-16 

Dan Horn Handicap 

NJ Breds 

$60,000  

3 and up 

1 mile (Turf) 

19-Jun-16 

Pegasus Stakes 

GIII 

$150,000  

3 YO 

1 1/16 mile 

25-Jun-16 

Eatontown Stakes 

GIII 

$100,000  

F & M 3 and up 

1 1/16 mile (Turf) 

26-Jun-16 

Mr. Prospector Stakes  

Listed 

$75,000  

3 and up 

6 furlongs 

2-Jul-16 

Salvator Mile  

GIII 

$100,000  

3 and up 

1 mile 

3-Jul-16 

United Nations Stakes  

GI 

$300,000  

3 and up 

1 3/8 mile (Turf) 

4-Jul-16 

Lady's Secret Stakes 

Listed 

$100,000  

F & M 3 and up 

1 m and 70 Yards 

9-Jul-16 

Long Branch Stakes 

Listed 

$100,000  

3 YO 

1 1/16 mile 

10-Jul-16 

Wolf Hill Stakes 

$60,000  

3 and up 

5 1/2 (Turf) 

16-Jul-16 

Lamplighter Stakes 

$60,000  

3 YO 

1 1/16 (Turf) 

17-Jul-16 

Miss Woodford Stakes 

$75,000  

F 3 YO 

6 furlongs 

23-Jul-16 

Jersey Shore Stakes 

GIII 

$100,000  

3 YO 

6 furlongs 

24-Jul-16 

Boiling Springs Stakes   

GIII 

$100,000  

F 3 YO 

1 1/8 mile (Turf) 

30-Jul-16 

Regret Stakes 

$75,000  

F & M 3 and up 

6 furlongs 

31-Jul-16 

Haskell Invitational 

GI 

$1,000,000  

3 YO 

1 1/8 mile 

31-Jul-16 

Matchmaker Stakes  

GIII 

$100,000  

F & M 3 and up 

1 1/8 mile (Turf) 

31-Jul-16 

Monmouth Cup 

GII 

$200,000  

3 and up 

1 1/16 mile 

31-Jul-16 

Oceanport Stakes 

GIII 

$150,000  

3 and up 

1 1/16 mile (Turf) 

31-Jul-16 

Molly Pitcher Stakes  

GIII 

$100,000  

F & M 3 and up 

1 1/16 mile 

6-Aug-16 

Colleen Stakes 

$60,000  

F 2 YO 

5 1/2 (Turf) 

7-Aug-16 

Tyro Stakes 

$60,000  

2 YO 

5 1/2 (Turf) 

13-Aug-16 

My Frenchman Stakes 

$60,000  

3 and up 

5 1/2 (Turf) 

14-Aug-16 

Blue Sparkler Stakes 

$60,000  

F & M 3 and up 

5 1/2 (Turf) 

20-Aug-16 

Monmouth Oaks 

GIII 

$100,000  

F 3 YO 

1 1/16 mile 

21-Aug-16 

Cliff Hanger Stakes  

GIII 

$100,000  

3 and up 

1 1/8 mile (Turf) 

27-Aug-16 

Philip H. Iselin Stakes 

GIII 

$100,000  

3 and up 

1 1/8 mile 

28-Aug-16 

NJ Breeders Handicap 

NJ Breds 

$60,000  

3 and up 

6 furlongs 

28-Aug-16 

Charles Hesse III Handicap 

NJ Breds 

$60,000  

3 and up 

1 1/16 mile  

28-Aug-16 

Eleven North Handicap 

NJ Breds 

$60,000  

F & M 3 and up 

6 furlongs 

3-Sep-16 

Violet Stakes 

GIII 

$100,000  

F & M 3 and up 

1 1/8 (Turf) 

4-Sep-16 

Sapling Stakes 

Listed 

$100,000  

2 YO 

1 mile 

5-Sep-16 

Sorority Stakes 

Listed 

$100,000  

F 2 YO 

6 furlongs