Haskell Day Will Be Family Affair For de Tomaso and Motion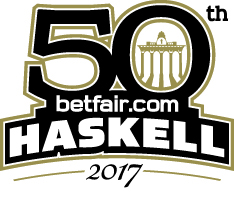 HASKELL DAY WILL BE FAMILY AFFAIR FOR de TOMASO AND MOTION 
            Isabelle de Tomaso, who collected the awards for her third-generation homebred Irish Sovereign as the 2016 New Jersey Broodmare of the Year and for Irish War Cry as the state-bred champion 2-year-old at Monmouth Park in June, heads back to the track Sunday hoping to pick up the most meaningful hardware of all, the Haskell Invitational trophy. 
            Irish War Cry, a 3-year-old son of two-time Horse of the Year Curlin, heads a likely field of seven tremendously talented sophomores in what promises to be a particularly salty edition of the $1 million betfair.com Haskell Invitational (G1) when Monmouth's most prestigious event and a race of great importance on the national calendar is renewed for the 50th time on July 30. 
            The golden anniversary of the Haskell, which is a "Win and You're In" qualifier for the $6 million Breeders' Cup Classic, will be especially meaningful for de Tomaso. She and her sister Hope Haskell Jones are the two surviving children of Amory L. Haskell, the president and chairman of the Monmouth Park Jockey Club from 1945 until his death in 1966, and the octogenarian sisters always present the trophy to the victorious connections. It would be mighty nice to keep it this time around. 
            "With Isabelle's connection to the Haskell family, it certainly would. This is a race that's always been on our radar and it's certainly been a summer goal for Irish War Cry for a number of reasons," said trainer H. Graham Motion while participating in a media National Thoroughbred Racing Association conference call Tuesday afternoon. 
            Motion and de Tomaso could collect a trio of trophies Sunday, and the winner's circle photos would certainly fit into the family album. 
            Irish Sovereign, the overwhelming favorite to repeat as New Jersey's Broodmare of the Year, has produced six winners from all six of her foals who have raced to date. Before Irish War Cry heads to the gate under Rajiv Maragh, his 5-year-old half-brother Irish Strait and 4-year-old half-sister Irish Defence may both compete on the undercard. 
            Motion plans to saddle Irish Strait, the winner of the Red Bank Stakes (G3) here in May, in the $150,000 Monmouth Stakes (G2) at 1 1/8 miles on the turf, and he is strongly considering running Irish Defence in the John J. Reilly Handicap (NJ) at six furlongs against the boys. She was an allowance race winner here in her last start. 
            "We could have all three siblings going so we could run the whole family on Sunday," said Motion.  "It's really not something I've set as a goal to do. They are really just logical races for these horses. They just fit really well into their schedules but it's not something we've pressed them to do. It happens to work out that way." 
            In addition, Motion is set to have Miss Temple City, a three-time Grade 1 winner in 2016 and a finalist for champion Female Turf Horse, make her eagerly-anticipated 2017 North American debut in the $100,000 WinStar Matchmaker Stakes (G3) at 1 1/8 miles on the grass.  
            Miss Temple City's only start this year was a 13th place disappointment in the Queen Anne Stakes (G1) at Royal Ascot in June.  
            "It is going to be a really big day," said Motion, who is participating in the Haskell for the first time. "I'm excited to have Miss Temple City back in the entries and I'm looking forward to it. We're getting off to a bit of a late start with her after going to Ascot, but she's done well since she came back from England and I'm excited to get her back on track on Sunday." 
            As for Irish War Cry, who was a very credible second in the Belmont Stakes (G1) in his last effort, Motion said that the colt is coming up to the race in optimal shape and that the cut back in distance from the 1 1/2 miles of the third leg of the Triple Crown to the Haskell's 1 1/8 miles is ideal.  
            "I think my horse really showed what he's made of going a mile-and-a-half in the Belmont," said the trainer, who will ship Irish War Cry from his Fair Hill Training Center in Maryland on Sunday morning. "I think the distance is a real benefit for him and I think this is his optimum distance. His Wood Memorial (at 1 1/8 miles) was possibly his best race. The nature of the Monmouth track, which is notoriously favorable to horses that tend to lay close to the pace, and the distance should play into his favor. I've never run a horse in the Haskell and I feel really fortunate to have a horse of this caliber. These are the races that everyone wants to run in." 
            Trainers Ian Wilkes and Joe Sharp, who also participated in the conference call and are also running horses in the Haskell for the first time, are in agreement.  
            Wilkes will saddle the Whitham Family Thoroughbreds homebred McCraken and Sharp will send out Brad Grady's Girvin. Both are multiple graded stakes winners, and although both suffered injuries along the Triple Crown trail, their conditioners reported them to be in peak form heading into Sunday. 
            "He's never lost his swagger. He never lost any confidence," Wilkes said of McCraken, who encountered a terrible trip in the Kentucky Derby (G1). "I thought that maybe coming out of the Derby and getting bounced around like that and all of it that he might, but he didn't." 
            McCraken will make his second start after a dominating victory in the Matt Winn Stakes (G3) at Churchill Downs in his comeback from the Derby disaster. 
            "He's never been a big physical specimen like Irish War Cry, but he's filled out and he's strengthened," Wilkes said of the colt, who stands just under 16 hands. "He's not a big or a rangey horse, but he runs big. When he strides out, he runs like a big horse. When I put a saddle on him, I've got a lot of confidence in him. I think he's got it in him, and I think he's on the upswing now." 
            Sharp is equally high on Girvin, whom he reported is healed from a front hoof quarter crack that was discovered while he was training for the Derby.  
            "He's been in a full shoe for a month now and his feet are as good as can be. He's sitting on all four cylinders," said Sharp, who also trains Phat Man, the winner of Monmouth's Long Branch Stakes earlier in the month. "This horse [Girvin] has heart and he's got grit." 
            Girvin, a two-time Grade 2 winner at the Fair Grounds over the winter, took a pretty tough beat in the Ohio Derby (G3) in his comeback race after the Derby, getting nipped at the wire by Irap. 
            "He ran his heart out. He fought every step of the way. He dug in deep the whole way down the lane, and just lost on the bob," said Sharp. "He had been off since the Derby and came out of the Ohio Derby a lot tighter and fitter. He's been up at Saratoga and he's blossomed. He's been training like I've never seen him before. He's a lot more confident than I've ever seen him before. He doesn't know he got beat in the Ohio Derby. 
            "He's just really feeling good. He hasn't had a bad day since the Ohio Derby and he's got his confidence up gain," Sharp continued. "He's ready to fire a big race." 
            Also joining Irish War Cry, McCraken and Girvin in the Haskell starting will be the duo from Chad Brown's barn, Dwyer Stakes (G3) victor Practical Joke and Pegasus Stakes (G3) winner and undefeated Timeline, as well as Battle of Midway and Hence. Battle of Midway and Hence are trained by Hall of Famers Jerry Hollendorfer and Steve Asmussen, respectively. 
            Post positions for the 50th running of the Haskell will be drawn on Thursday, July 27, and the race will be televised nationally on NBC-TV from 5 to 6 p.m.  All day race coverage will be live on TVG. 
            First post on Sunday is 12 noon and post time for the Haskell, which we will be run as the 12th race on the card of 14, will be 5:48 p.m. 
Select seats remain for the Haskell and can be purchased online or by calling 732-571-5580.