Hall Of Famer Trainer Richard Mandella Hoping History Repeats In Saturday's TVG.com Haskell Stakes 23 Years Later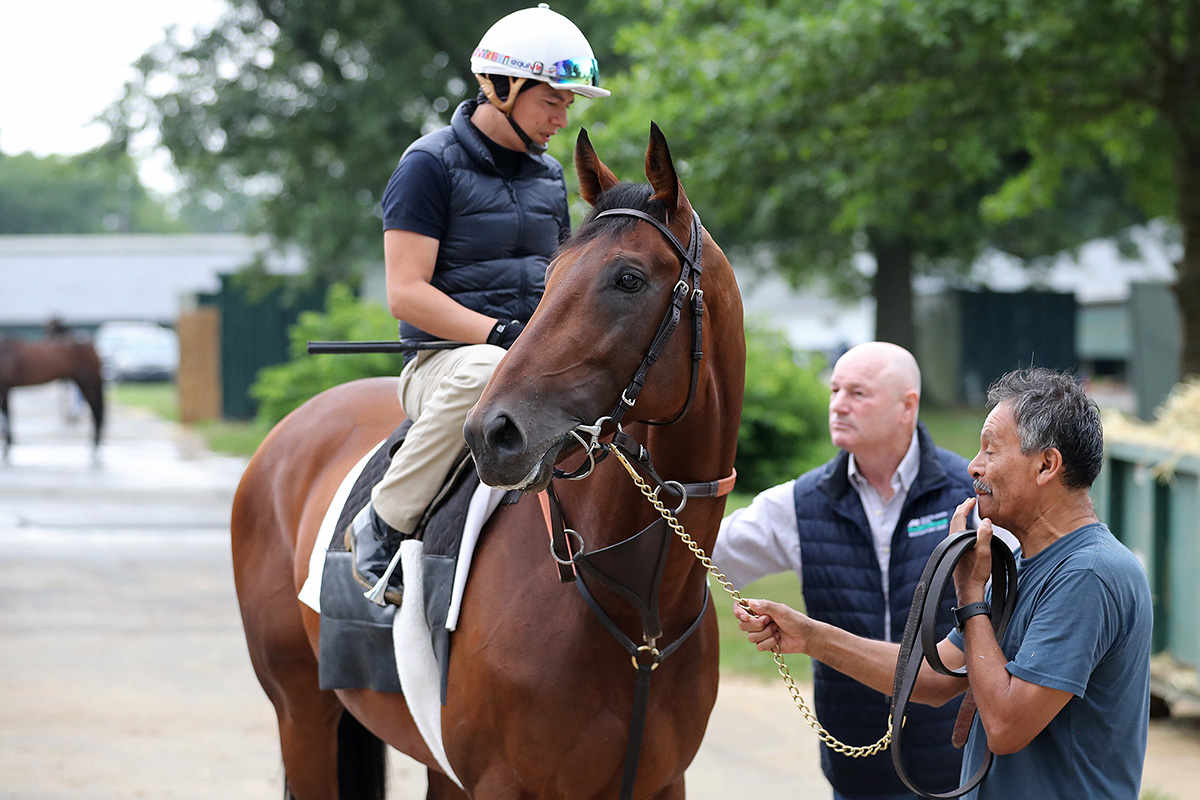 During his Hall of Fame career trainer Richard Mandella hasn't run many horses at Monmouth Park. In fact, it's been 23 years since he last brought one to the Jersey Shore to contest the track's marquee race.
"I was waiting for the right horse," said Mandella, who will saddle Geaux Rocket Ride in the Grade 1, $1 million TVG.com Haskell Stakes on Saturday. "We think this is the right horse for the right race at the right time."
Mandella, who will always be associated with the great race mare and four-time Eclipse Award winner and Hall of Famer Beholder – he has also won nine Breeders' Cups – knows how to spot horses.
In his only other Haskell appearance, he took home the hardware when Dixie Union crossed the wire first in 2000. Now he looks to keep his record perfect.
"This is a tough race," said Mandella, who has retained Hall of Fame jockey Mike Smith to ride the Pin Oak Stud color bearer when the son of Candy Ride breaks from the rail as the 9-2 morning line choice in the field of eight 3-year-olds.
Though Geaux Rocket Ride is only his second Haskell horse, Mandella has enjoyed success in the Garden State. He trained the Brazilian-bred champion Sand Pit, who won back-to-back editions of the Caesar's International Handicap (Grade 1) on the turf in 1995 and 1996 at the now-defunct Atlantic City Racecourse.
The race's name was changed to the United Nations Stakes, and it is Monmouth Park's other Grade 1 event on the racing calendar.
The 2023 edition of the $600,000 United Nations will be contested on Saturday as well and will be featured on the Haskell Day undercard.
Mandella brought the Brazilian-bred Planetario for this year's United Nations, and the turf specialist will be his first entry in this race since 1996.
"I brought two horses to Monmouth when Dixie Union won the Haskell (on Aug. 6, 2000). Reciclada (CHI) won the Eatontown (Grade 3) that day," he recalled with a smile. "That's why I brought two this year."
Mandella also enjoyed good luck with Shut Up and Dance in 2001 when she won the Blue Sparkler Stakes here. But his fortunes turned six years later when he returned for the 2007 Breeders' Cup at Monmouth Park with Dixie Chatter, a son of Haskell winner Dixie Union.
"I brought the colt for the Breeders' Cup Juvenile. But he got a temperature two days before the race so he couldn't run that day," said Mandella, who was the first to win four Breeders' Cups in a single event (in 2003).
Mandella's last Haskell may have been almost a quarter-century ago, but fellow Hall of Fame trainer Bob Baffert can recall it as though it were yesterday.
"I remember coming there when I first got in the sport. It was my first Haskell," said Baffert, who seeks to extend his record nine Haskell victories with 5-2 early favorite Arabian Knight. "That first year I came. Richard Mandella beat me with Dixie Union. I ran second to him (with Captain Steve). His horse could be very tough this year."
Scott Blasi, the long-time assistant to Hall of Famer Steve Asmussen, also holds wonderful memories of Monmouth Park. Two of the team's favorite horses, Rachel Alexandra and Curlin, both of whom were Horse of the Year, won some of their biggest races on this track.
Fan favorite Rachel Alexandra won the 2009 Haskell and Curlin was victorious in the 2007 Breeders' Cup Classic. Champion Midnight Bisou won the 2019 Molly Pitcher (Grade 3).
"Rachel's Haskell was a dominating performance over the best of the group that year. She was special," said Blasi. "That's a very good memory. The crowd was going crazy for her and all the little girls and even grown women showed up with their Rachel signs.
"Midnight Bisou was a very, very special horse, too. Curlin's Breeders' Cup was really something with a crazy week of rain. Barbara (Banke, his owner) kept texting me to ask if I thought he'd like the slop and I kept texting her back that I had no idea."
The rains were torrential on that Breeders' Cup day. But just before the horses were set to enter the paddock for the Classic there was an omen.
"Steve and I were walking Curlin over from the backside and suddenly the sky cleared and the sun came out. It was crazy," said Blasi.
Curlin, who had finished third in the 2006 Haskell, made his return to Monmouth redemptive as he crushed the Classic field by 4½ lengths.
"Monmouth Park is a very special place and it's special to our team, for sure. We love coming here," Blasi said.
The Asmussen team is back for the 2023 Haskell with Extra Anejo, for whom Winchell Thoroughbreds paid $1.35 million. He'll break under Tyler Gaffalione from post seven in his first try in stakes company.
Last out on June 10, he won a one-mile allowance race by 6 ¼ lengths.
"Once he won the allowance race at Ellis (Park) and went 1:34-and-change and with the horse seeming to want more ground, it was the next logical step. I know he's lightly raced, but hopefully, talent overcomes that," Blasi said. "It's nice to blessed with a horse who's good enough to be in this race."
Team Brad Cox feels the same. They are hoping to make new memories and keep their recent success rolling.
Cox won the last two Haskells with his first two starters in the race – Juddmonte Farms' homebred Mandaloun in 2021 and Al Gold's Cyberknife in 2022.
The Cox-trained Salute the Stars, the Pegasus Stakes (listed) winner here last out, was assigned post position 8 and is partnered with Joel Rosario.
Kate Tolbert, Cox's assistant trainer, said, "We've been really lucky and hope to keep it up. We've had some great horses, great people, and great owners. We hope we're building a new tradition here. It's a tough race but this horse been really great. It's not going to be easy, but we hope to get lucky again."
The Haskell, part of the Breeders' Cup Challenge Series, is also a "Win and You're In" for the $6 million Breeders' Cup Classic with an all-expenses paid trip to the event at Santa Anita Park in November and a guaranteed spot in the starting gate.
In addition to the Haskell, which is the 12th of the 14 races on the card, and the Grade 1, $600,000 United Nations Stakes, the Grade 3, $500,000 Molly Pitcher, the Grade 3, $400,000 Monmouth Cup, and the Grade 3, $300,000 WinStar Matchmaker are the supporting graded stakes.
First race post time for Haskell Day is noon and estimated post time for the Haskell is 5:47 pm EDT. NBC-TV will broadcast on site from 5-6 p.m.