Gryder, Castro Rejoin Monmouth Park Riding Colony; Paco Lopez Looks for Sixth Title At Jersey Shore Race Track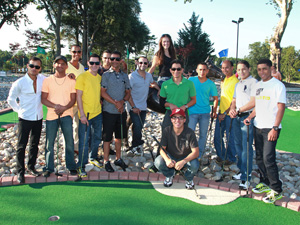 GRYDER, CASTRO REJOIN MONMOUTH PARK RIDING COLONY;
PACO LOPEZ LOOKS FOR SIXTH TITLE AT JERSEY SHORE RACETRACK
Oceanport, N.J. – Jockeys Aaron Gryder and Eddie Castro are set to return to Monmouth Park this summer and join a solid riding colony that includes five-time champion Paco Lopez, Antonio Gallardo, Nik Juarez and Jose Ferrer, to name but a few.
"I've always enjoyed Monmouth Park," said Gryder, who last rode regularly at Monmouth in 2005."It's great timing for me and I'm looking forward to getting back there, working hard and hopefully getting off to a good start.I'll go anywhere to win and do what I have to in order to get the winner's circle.That's what racing is all about."
Gryder, a journeyman whose long list of victories include the 2009 $6 million Dubai World Cup atop Well Armed, has won more than 3,000 races in his career. He has captured riding titles at Churchill Downs, Arlington Park and Aqueduct.
Eddie Castro, the Eclipse Award winner as leading apprentice in 2008, has been a 3-time runner-up in the Monmouth Park rider standings (2007-2009).The 32-year-old Breeders' Cup winning journeyman was last seen at Monmouth in 2014.
Back to defend his title is Paco Lopez, who took his first Monmouth title at the 2010 Elite Meet, and has equaled that feat every year since 2013.
Also back is Nik Juarez, runner-up in last year standings and leading apprentice the year prior.Juarez, the son of longtime rider turned trainer Calixto Juarez, Nik is a third generation horsemen that has captured some of Monmouth's top races including the Iselin and Sapling Stakes.
Add to all that a slew of last year's top ten finishers: Jose Ferrer (3rd), Orlando Bocachica (6th), Wilmer Garcia (8th), Victor Lebron (9th), and Pedro Cotto Jr. (10th).
And if that wasn't enough, throw in the mix Joe Bravo, the 13-time leading rider, who will be a frequent visitor to the Shore racetrack, as will Chris DeCarlo, a Haskell winner and recent victor of the Grade 1 Carter Handicap.
The 2017 Monmouth meet runs from May 13 through Sept. 10.