Grooms All Bizness Takes Advantage Of Perfect Set-Up To Win Sunday's Get Serious Stakes Before A Crowd Of 27,170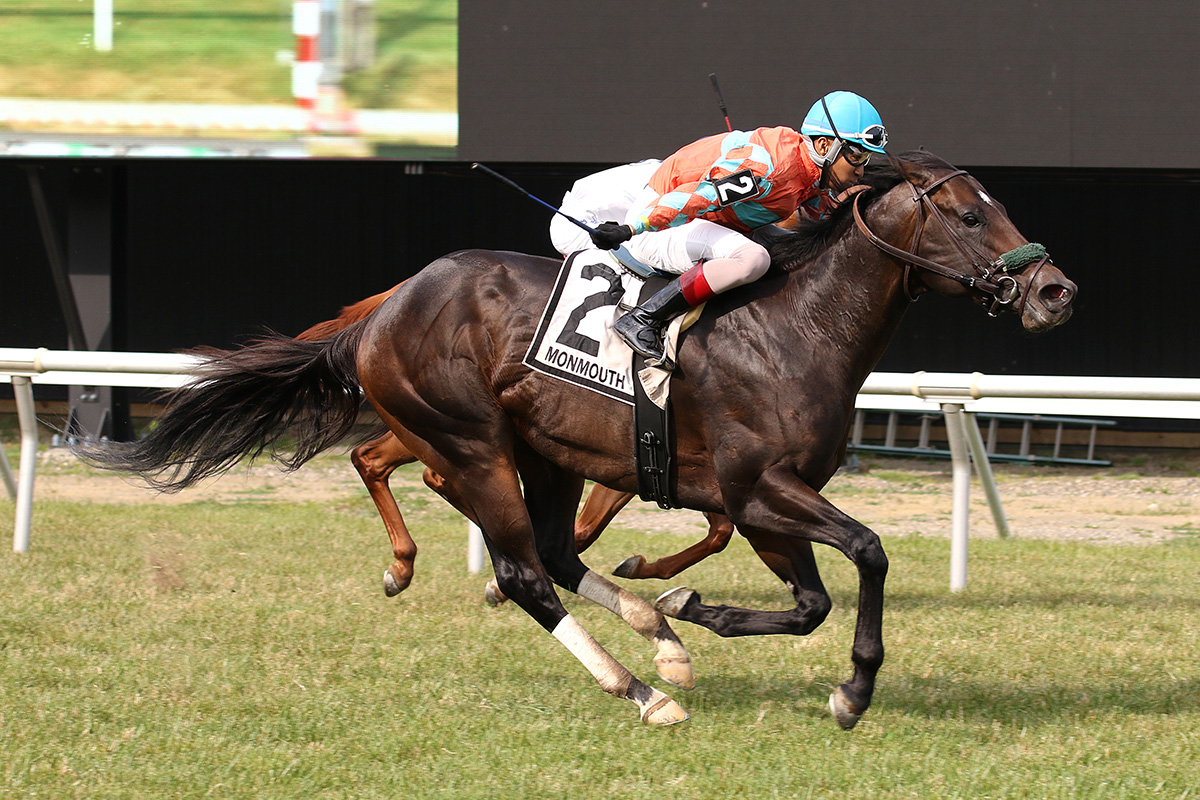 This is how a trainer would draw up the ideal scenario for closing turf sprinter in a stakes race: Three horses dueling through blazing early fractions while his horse sits behind the trio waiting and chilling.
Or, as trainer Jorge Duarte, Jr. put it: "You're talking about the dream trip here."
Grooms All Bizness took full advantage of a perfect set-up, rallying from off the pace and then digging in to hold off 9-10 favorite Our Shot by three-quarters of a length to win Sunday's $100,000 Get Serious Stakes before a Father's Day crowd of 27,170 at Monmouth Park.
The winning time for the five furlongs over a firm turf course was a snappy :55.46, in large part because Full Disclosure, Just Jeremy and That's Right grilled each other into submission through an opening quarter in :20.90 and a first half in :43.70.
"That's what you want to see with a closing sprinter," said Duarte, whose horse sat off that duel.
Sent off at 6-1 in the field seven 3 year olds and up, Grooms All Bizness notched his first career stakes win in his fifth stakes try. All four of the 4-year-old colt's lifetime wins have been sprinting on the turf at Monmouth Park.
Jockey Angel Rodriguez was also able to get the jump on Our Shot, who was closing fast on the inside. It was another two lengths back in third to Alogon as the three early duelers finished off the board.
"I was in the perfect position," said Rodriguez. "My horse broke good and I was just sitting there watching that speed duel. I know my horse. I knew he would run good. He keeps getting better."
Owned and bred by Colts Neck Stables, the Kentucky-bred son of Fed Biz-Bride to Be by Candy Ride has two wins and a second in his three starts this year.
"He ran good," said Duarte. "I love this mare. She produces very good horses. She was very good herself.
"This was a really good effort. We're very happy. We kind of found his liking running-wise. He has been thriving through the racing. He's been getting better. So we were very eager to run in this spot because we felt he would run a good race. And he does like Monmouth Park."
Grooms All Bizness paid $14.00 to win.