Grade 1 Winner Two Emmys Tops Field For Sunday's $100,000 Oceanport Stakes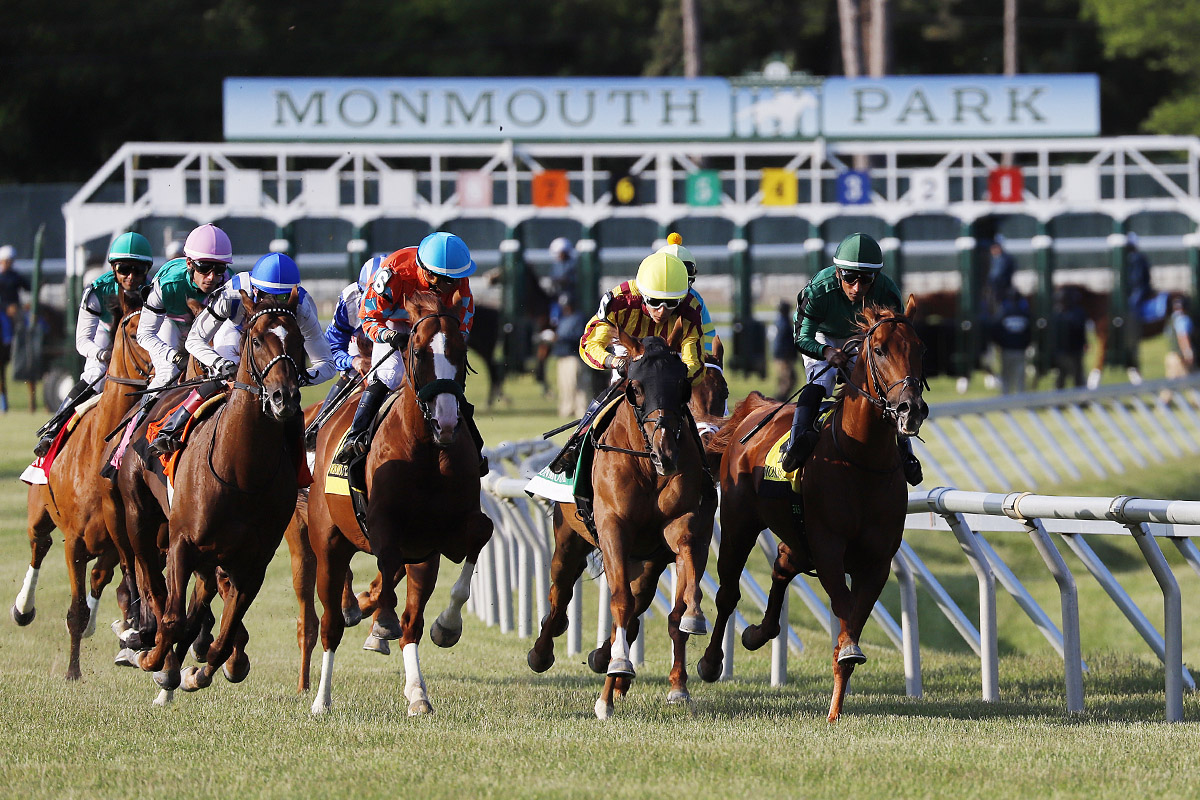 With a division of horses nearby at Delaware Park, and needing a race for the Grade 1-winning Two Emmys, trainer Mac Robertson thought he found the perfect spot by being able to easily ship in for Sunday's $100,000 Oceanport Stakes at Monmouth Park.
The mile and a sixteenth turf feature for 3 year olds and up just came up a little tougher than he expected.
"There are a couple of horses in there that ran really well last time and ran well at Monmouth Park," said Robertson. "I'm optimistic about our chances. But the race came up pretty tough for $100,000."
As dangerous as some of the six rivals may be to the classy 6-year-old gelding, a visit to the winner's circle still goes through Two Emmys, who has both a Grade 1 win (Mr D Stakes last Aug. 21 at Arlington) and a Grade 2 win (Muniz Memorial at Fair Grounds on March 26) to his credit. No other horse in the field has won a graded stakes race.
Two Emmys, a son of English Channel owned by Wolfe Racing and Robertson's dad, Hugh, looks to have come back at the peak of his game with two wins already this year. He sports a 6-8-1 overall record from 22 career starts with earnings of $815,083.
"He's like so many of these good English Channel horses – it seems like age is inconsequential," said Robertson, who also has a string at Canterbury Park. "There are good 8-year-old English Channels running. So he is still going strong."
Two Emmys came off a nine-week layoff to win the Outbound Ike Stakes at Hawthorne on June 25. That followed a seventh place finish in the Grade 2 Elkhorn Stakes at Keeneland when Robertson said Two Emmys suffered from heat stroke.
"He was fine, but he did have heat stroke at Keeneland and that was the reason for the break," said Robertson. "I thought he came back and ran a great race at Hawthorne."
Two Emmys, who is generally on the lead or close to the leader, came off the pace to win that day at Hawthorne – which didn't surprise Robertson, who has taken over most of his father's horses while his dad spends time at home in Nebraska.
"I think he will be placed wherever the jockey wants to place him," he said. "He doesn't have to be in front. At the Fair Grounds a couple of times he came from way off the pace.
"Some of the longer races go in 51 seconds for the half so of course he is on the lead. He's a fast horse. But I don't think he needs to be on the lead because he has shown he can pass horses in the stretch."
The field Sunday includes the Pat McBurney-trained Mohs, who was off the board in his last start in the Grade 1 United Nations, the rapidly-improving Winfromwithin and Kuramata, who is trained by Chad Brown.
Robertson calls Two Emmys, who was picked out at the 2017 Keeneland September yearling sale for a mere $4,500, "a hickory horse."
"You know what you're going to get when the gate pops open," he said.
Delaware Park regular Carol Cedeno will come in for the ride.