Grade 1 Winner Mind Control Jogs At Monmouth As Sacco Plots Next Race For 2-Year-Old Star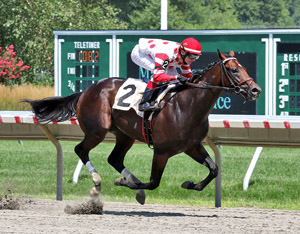 Grade 1 Hopeful Stakes winner Mind Control went for an easy jog around the Monmouth Park oval on Friday morning, with trainer Gregg Sacco saying "we will have a path of where we want to go next in the next week to 10 days." 
Mind Control broke his maiden at Monmouth on Aug. 12 by three lengths before going on to spring the upset in the Hopeful at Saratoga, giving Sacco a Grade 1 winner for the first time since he went out on his own in 1989. 
The Oct. 6 Breeders' Cup Futurity at Keeneland and the Oct. 7 Champagne Stakes at Belmont Park are the options Sacco is considering for the 2-year-old son of Stay Thirsty-Feel That Fire by Lightnin N Thunder. 
The ultimate goal is the Breeders' Cup Juvenile on Nov. 2 at Churchill Downs, a race won in 2017 by Good Magic, this year's betfair.com Haskell Invitational winner. 
Both the Futurity and the Champagne are "win and you're in" races for the Breeders' Cup Juvenile. 
"He's doing great," Sacco said of Mind Control. "Nothing is written in stone yet. There are some options, obviously. We're going to let him dictate where we go." 
Mind Control, who shows two wins and a second from his three career starts, is owned by Red Oak Stable and Madaket Stable, which purchased one-third of the horse following his Monmouth Park victory. 
Sacco said he had the sense he had something special on his hands in stall nine of his barn at the start of the summer. 
"He's a smart horse and he does things effortlessly," he said. "Just the way he worked and carried himself, you could tell. He is the only 2-year-old I have who was doing the things he was doing. So we knew he was talented. 
"His first career race he was second to Call Paul at Delaware Park and Call Paul came back to win the Saratoga Special, so that was flattering. And then he broke his maiden effortlessly in 1:09.79 at Monmouth and he was wrapped up the last sixteenth of a mile. Those kinds of things give you a clue." 
Sacco, who comes from a family of trainers, said his father William, Monmouth Park's leading trainer in 1962, and his trainer uncles were the people he thought about after he had time to reflect on winning a Grade 1 race. 
"My father and my uncles trained some nice horses," said Sacco, whose brother Rick is the stable manager. "I was thinking about them right after the race, thinking about all the hard work they put in. My father and my uncles taught my brother and me everything we know about training, so I was thinking of them. It just means so much." 
If Mind Control does make it to the Breeders' Cup Juvenile it will be Sacco's second starter in that race. He was fourth in 2009 Breeders' Cup Juvenile with longshot Piscitelli.