Gov. Murphy And First Lady Tammy Murphy Honored For Their Support Of Retired Thoroughbreds At Charles J. Hesse Golf Outing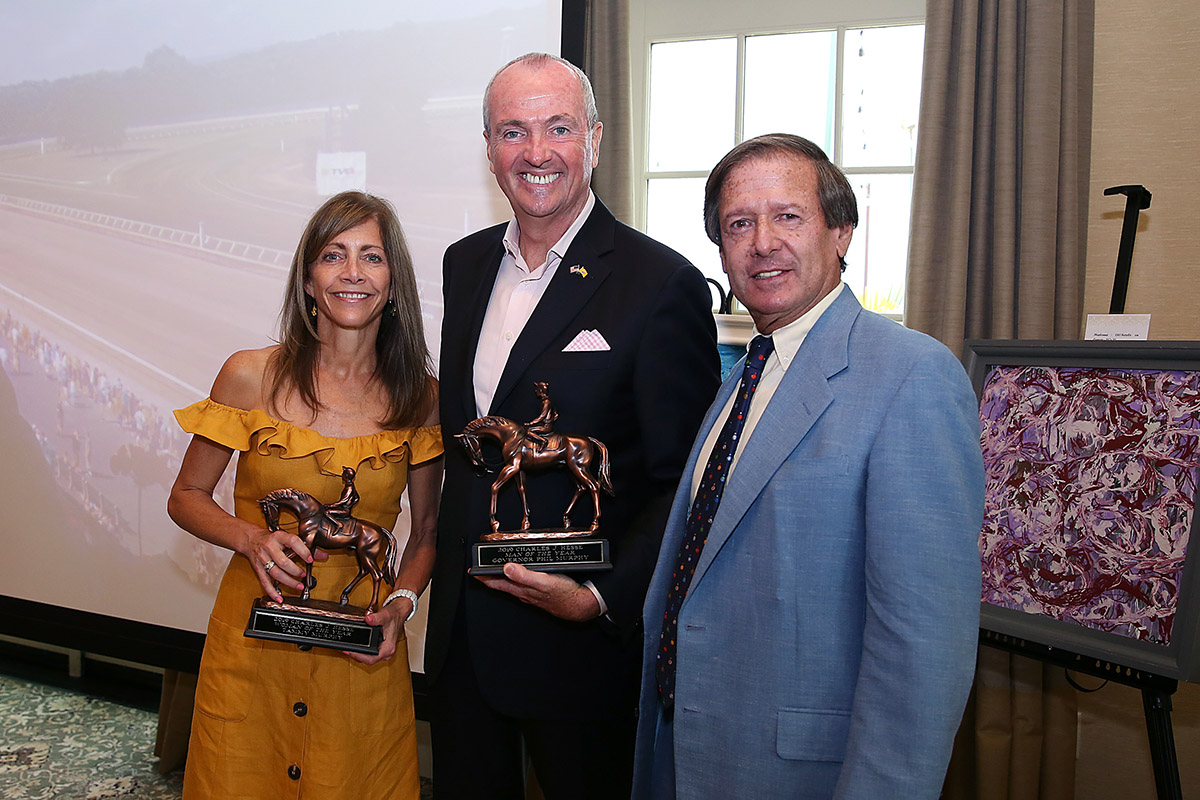 The Sixth Annual Charles J. Hesse Golf Outing to benefit the retired Thoroughbreds of Monmouth Park was held on Monday, Aug. 19 at Navesink Country Club. During this year's event, Governor Phil Murphy and First Lady Tammy Murphy were named the 2019 Charles J. Hesse Honorees of the Year. This designation is given to individuals who have gone above what is required of them to ensure that thoroughbred athletes are retired in safety.
This year, over $170,000 was raised for retired thoroughbreds of Monmouth Park Racetrack. The Charles J. Hesse Golf Outing has become, by many measures, the leading source of donated income to support the efforts of Monmouth Park and the New Jersey Thoroughbred Horsemen's Association's (NJTHA) desire to responsibly take care of their retired four-legged athletes.
Gov. Murphy and Mrs. Murphy also gave remarks to validate Monmouth Park and the NJTHA for providing second careers and opportunities for their horses after they have retired.
During his remarks, the Governor renewed his support for racing, noting the large number of jobs it provides, the open space which exists due to the thoroughbred farms in the state, and the economic boost racing brings to local vendors and merchants.  Further, the Governor congratulated Dennis Drazin, Chairman and CEO of Darby Development, the operator of Monmouth Park, on his concern and support for retired thoroughbreds and Second Call Thoroughbred Rescue.
Drazin was cited for being one of the industry's most responsible racetrack operators in large part for his efforts and diligence to responsibly transition Thoroughbreds into a second careers or a happy and healthy retirement.
Drazin and Michael Musto, Executive Director of the NJTHA, identified a need to facilitate the transition of horses who were no longer able to compete at Monmouth Park into a safe and happy second career.
Beginning with the Second Annual Charles J. Hesse Golf Outing, each year a recipient has been chosen as an Honoree. The first Honoree was trainer J. Willard Thompson followed by Drazin, Dr. Angelo Chinnici and Musto.
Marianne Hesse generously underwrites this event each year in memory of her late husband, Charles "Charlie" Hesse. Marianne and Charlie owned and operated Char-Mari Stable, a quite successful stable at Monmouth Park and many other premiere race tracks throughout the country.