Full Promotional Schedule On Tap This Summer As Monmouth Park Kicks Off Its 51-Day Meet On Saturday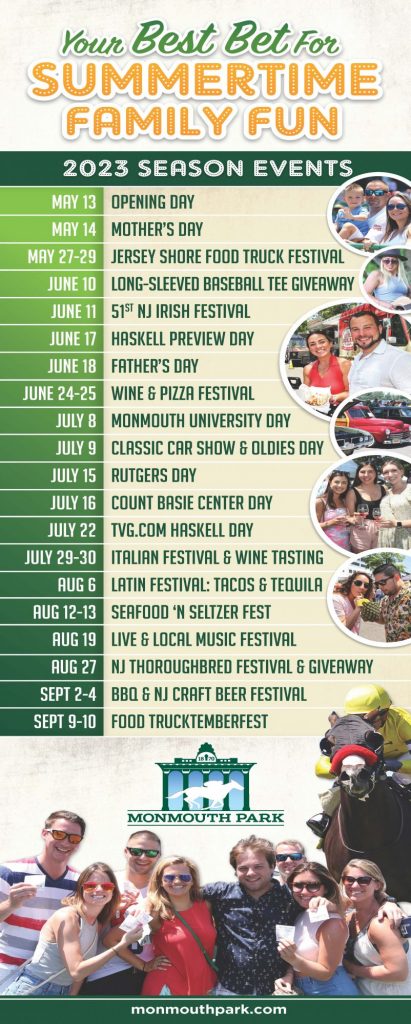 The 2023 season at Monmouth Park will feature the most jam-packed promotional schedule in track history – plus a little extra firepower – to complement the 78th season of Thoroughbred racing at the Jersey Shore.
Beginning on Opening Day — Saturday, May 13 – racing fans and entertainment seekers alike will be treated to a variety of food festivals, giveaways, specialty days, and handicapping contests. In addition, weekend race attendees will have the opportunity to catch – yes, catch – a special "cannon series" T-shirt launched out of Monmouth Park's new T-Shirt cannon.
The Jersey Shore Food Truck Festival kicks off Monmouth Park's food festival season in its traditional Memorial Day weekend timeslot. The three-day culinary extravaganza will feature nearly 40 popular food trucks from Saturday, May 27, through Monday, May 29, plus live music on two stages. Family fun day activities will take place that Saturday and Sunday.
Monmouth Park's newest event is Latin Festival: Tacos & Tequila, which will take place on Sunday, Aug. 6. Also new for 2023, Monmouth Park's traditional Seafood Festival has been rebranded Seafood 'N Seltzer. The Aug. 12-13 event will now feature a hard seltzer tasting in addition to the Shore's best seafood.
Also returning to the summer festival calendar is the Wine & Pizza Festival (Saturday, June 24, and Sunday, June 25), Classic Car Show & Oldies Day (Sunday, July 9), Italian Festival & Wine Tasting (Saturday, July 29, and Sunday, July 30), and the BBQ & NJ Craft Beer Festival (Saturday, Sept. 2, through Monday, Sept. 4). Historically a one-day event, Food Truckemberfest is now a two-day celebration to conclude the food festival season on Saturday, Sept. 9, and Sunday, Sept. 10.
"Last season, it was amazing to see the return of big crowds and big smiles on the faces of fans of all ages," said Brian Skirka, marketing manager at Monmouth Park. "Through our extensive promotional schedule, we can't wait to see those smiling faces return to one of the Jersey Shore's most iconic and family-friendly entertainment destinations. I'm confident this summer will offer something for everyone, and I couldn't be more excited for what I think will be our best season ever."
In addition to a full slate of festivals, Monmouth Park will offer three premium giveaway days in 2023. On Saturday, June 10, the first 4,000 paying fans will receive a retro long-sleeved baseball tee, courtesy of Pepsi. TVG.com Haskell Day on Saturday, July 22, will once again feature a commemorative Haskell hat giveaway. A deluxe cooler bag, courtesy of Malouf Auto Group, will be given out to the first 5,000 fans on New Jersey Thoroughbred Festival Day Sunday, Aug. 27.
Adding to the season giveaways, Haskell Preview Day on Saturday, June 17, will include a "grab-bag" giveaway featuring past Haskell hats, promotional items, and more.
Among the other key events on Monmouth Park's 2023 promotional schedule are:
Mother's Day – Sunday, May 14
The 51th Annual NJ Irish Festival – Sunday, June 11
Father's Day – Sunday, June 18
Heineken Cigar Luncheon – Saturday, July 15
Live & Local Music Festival – Saturday, Aug. 19
Monmouth Park has partnered with local institutions to bring fans three specialty days throughout the 2023 season. Monmouth University Day will take place for the first time Saturday, July 8. Rutgers Day will return to the track Saturday, July 15. A concert ticket giveaway will headline Count Basie Center Day on Sunday, July 16.
On the handicapping contest front, Monmouth Park continues to be a national leader. The June 3 $2,000 Pick Your Prize Handicapping Challenge, which last year produced a record 290 entries, anchors a contest calendar which also sees events on May 13, June 4, July 22, August 5 and August 26.
Survival at the Shore, a free online handicapping game, will start for the season on Saturday, May 27.
On Friday, June 30, Monmouth Park will again host a charity event for the Permanently Disabled Jockeys Fund at the Beer Garden at Blu Grotto, with Monmouth Park jockeys serving as bartenders following the day's live racing.
Continuing a fan favorite, Monmouth Park will feature free Family Fun Days, courtesy of The Star-Ledger, on Sundays and special event days from Memorial Day weekend through Labor Day. Monmouth Park's free Dawn Patrol program, with a guided tram tour of the stable area on Saturdays starting in June, also returns this summer.
Beginning Opening Day, fans will again be permitted to bring coolers into Monmouth Park's picnic area on live racing days. All coolers must adhere to size limits and can only be brought through the Picnic Gate.
Fans can purchase tickets for general admission, festivals, reserved seats and more in advance via SeatGeek, Monmouth Park's exclusive ticket provider. TVG.com Haskell tickets will be available at seatgeek.com/monmouth beginning Saturday, May 27.
On the racetrack, five stakes races will support the Grade 1, $1 million TVG.com Haskell Stakes on July 22, including the Grade 1, $600,000 United Nations.
For more information and a full listing of the promotional schedule and upcoming events, visit www.monmouthpark.com.